Each year, UT awards $75 million in scholarships to students. The UT Alumni Association awards four $2,500 scholarships each year to undergraduate students who are descendants or relatives of UT alumni.
Award amount: $2,500 per year (up to four years)
Eligibility:
Recipient must be a descendant or relative of a graduate of UT (preference is given to direct descendants)
Must complete the FAFSA
Awarded to one new incoming freshman each fall semester
Applicants should email finaid@ut.edu - attention: Director of Financial Aid, subject: UT Alumni Association Scholarship. Please include the name of the alumnus.
Application deadline is Feb. 1.
The scholarship is announced in the spring for the following fall. Questions should be sent to alumni relations at alumni@ut.edu, or contact the Office of Financial Aid at (813) 253-6219.
To contribute to the scholarship fund, contact the Office of Development and University Relations at (813) 253-6220.
---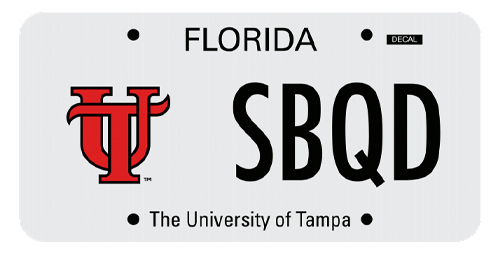 To purchase a UT License plate in the state of Florida, please visit our License Plate Information Page. For each plate purchased, $25 goes to UT to help fund scholarships and academic improvements.
---