Students who participate in research:
Develop the skills employers, graduate programs and professional schools are looking for, including communication, teamwork, problem-solving and critical thinking.
Improve their odds of getting a graduate school fellowship or admission to a professional school
Contribute to a variety of the planet's most essential issues.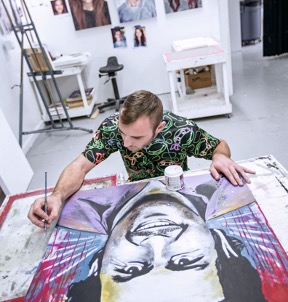 While many research opportunities are reserved for upperclassmen, the SURE program provides a select group of first-year UT students an inquiry-based, hands-on head start to research. Led by David Reamer, director of the Office of Undergraduate Research and Inquiry, this selective cohort is introduced to research best practices through a special section of Spartan Studies (UTAMPA 101 and 102).
Within this small, discussion-based course, SURE students learn research basics and begin to see themselves not just as knowledge consumers, but knowledge producers at the forefront of their chosen discipline. In-class seminars allow SURE students to meet faculty and seasoned student researchers from across the University and learn about the projects they are currently working on. Each February, SURE students travel to attend the Florida Undergraduate Research Conference, one of the nation's largest multi-disciplinary research events.
Through these offerings, SURE students gain exceptional access to research opportunities. SURE students frequently earn research apprenticeships with professors in their major at UT. Overall, SURE students are able to clarify their career trajectory, build their resume, develop relationships with faculty and their peers, and get early access to research opportunities that have the potential to continue throughout their time at the University.
Incoming student interested in SURE? Contact your Admissions counselor. Students must be nominated by their counselor to apply, as this program is limited to 15-20 students. Applications are reviewed on a rolling basis during the preceding spring semester and will continue until all spaces are filled.
---
---
Contact Us:
SURE Program
Office of Undergraduate Research and Inquiry
Plant Hall Room 228
Phone: (813) 257-3550
Email: OURI@UT.edu