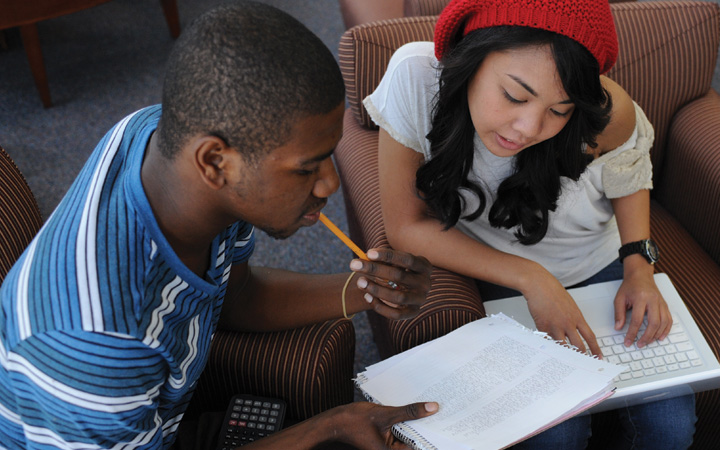 As one of three undergraduate programs in the United States accredited by the Commission on the Accreditation of Programs in Applied and Clinical Sociology, the Bachelor of Arts in Applied Sociology and the Bachelor of Science in Applied Sociology each equip students with the knowledge, skill-set, training and experience necessary to apply social theory and research methods to real-world settings and problems. From internships, independent studies and community-service learning, to one-on-one mentorship, collaborative research and professional development, students are provided with exceptional, practical learning experiences that broaden and enhance the scope of their future opportunities and successes.
As evidenced by our prestigious accreditation, the applied sociology program is committed to internship experiences, students' career aspirations, vigorous involvement and mentorship. Students are provided with an array of transferrable skills that render them particularly competitive for both graduate school and the 21st-century job market. Applied sociology majors are taught how to think, write and present critically, scientifically and creatively as researchers, problem-solvers, decision-makers and consultants who offer important and insightful evaluations and solutions to a vast array of professionals, organizations, communities and individuals. Throughout the program, students receive training that enables them to apply their expertise of social life and human behavior to purposes and problems defined by interest groups, community leaders, businesses, agencies, for-profit/nonprofit organizations, governments, activist groups, public/private think-tanks, university partner(s), community service organizations and/or to their scholarly communities, universities and classrooms.
Topics of Study
Clinical and Counseling Sociology
Medical Sociology
Sociology of Childhood
Social Stratification
Race/Ethnicity
Gender
Sexualities
Social Research Methods
Social Theory
Social Statistics
Qualitative Research Methods
Demography
Popular Culture
Social Psychology
Religion
Deviance
Global Sociology
Marriage and Family
Sports
Graduate School and Career Opportunities
The skills acquired throughout the applied sociology program ensure that students are competitive applicants to graduate schools around the country. UT's applied sociology alumni have entered graduate programs in sociology, social work, mental health counseling, law, medicine, psychology, communication, public administration, library sciences, gerontology, and business. These same skills are also greatly desirable in occupations that involve working with diverse customers or clients and positions that require cultural sensitivity, due process, and/or the responsible collection and analysis of quantitative and qualitative data. As such, students are well-primed to enter an expansive range of occupational settings and graduate programs, including those related (but not limited) to the following:
Mental/Physical Health and Wellness:
Includes social work, advocacy, mental health, interpersonal therapy, counseling, child welfare, intervention, substance abuse, and positions that involve collaborating with doctors, nurses, psychologists, psychiatrists and nutritionists.
Legal Systems and Criminal Justice:
Includes positions that involve legal council and/or the coordination, evaluation, implementation, and management of legal services and programs (e.g., case managers, lawyers, council and service coordinators, program specialists, human rights officers/specialists, juvenile probation officers, etc.)
Policy, Administration and Education:
Includes public policy, public administration, human resources, and positions that involve policy and/or program evaluation and analysis, expertise in culture and diversity, and those that involve working as instructors/professors, administrators, and consultants within primary and secondary educational settings.
Business, Marketing and Media:
Includes advertising, management consultation, market research analysis, media planning, public information/relations, impact planning and user research.
Social Research and Analytics:
Encompasses many positions listed above, as well as numerous others that involve the collection and analysis of data, often through the use of statistical, qualitative and/or mixed-method analysis software. Such positions include research analysts, directors, associates, officers, fellows, project managers and/or specific types of social research, such as network analysis, social demography, ethnography, geographic information systems, etc.
Experiential Learning and Practice
The applied sociology program centers on hands-on learning through experience, inquiry, application, and practice within and beyond the university setting. As such, the "practice experience" is a program requirement designed to offer research-based and experiential opportunities for students applying to graduate school and those who opt to go beyond the academic context. Under the supervision of a full-time faculty member in applied sociology, students choose among four types of practice: internship, research project, community service commitment or independent study. Students are highly encouraged to take part in one or more of these opportunities beyond the "practice experience" requirement.
Internships
Internships provide students with an opportunity to intern at an organization or agency of interest. Under faculty supervision, students will gain a hands-on, supervised work experience at a site where they can learn how to professionally and ethically apply sociological theories, methods and skills for specific purposes. Examples of student internships sites include the Child Abuse Council, Inc., Alpha House, Department of State, Hillsborough Department of Aging Services, Juvenile Alternative Services Program, Joshua House, Metropolitan Ministries, Planned Parenthood, the ACLU, Guardians Ad Litem and the Equal Rights Alliance, Inc.
Community Service Commitments
Community Service Commitments provide students with an opportunity to learn through a semester-long service project at a for-profit or nonprofit organization or agency of interest. Through service, students not only gain a deep understanding of everyday life within local organizations/agencies, but also of organizational structures, leadership and collective community action.
(In addition to faculty supervision, students who practice in a community and/or organizational setting will be under the supervision of a member affiliated with the internship site or place of service.)
Research Projects
Research Projects entail conducting social research with faculty members, often with opportunities for conference presentations, paper competitions and publication. Under faculty supervision, students take a hands-on approach to advancing their knowledge of existing scholarship, theory, research methods, data analysis and/or oral or written presentation of the research. Research opportunities with applied sociology faculty include (but are not limited to) the following:
Independent Studies
Independent Studies are unique learning experiences that provide students with one-on-one mentorship specifically oriented toward their professional interests. Under faculty supervision, the student will embark on an in-depth, semester-long experience that includes a specific career-oriented task and/or responsibility, technique or skill frequently practiced in their desired professional field. This could include a close examination of child care program evaluation, health policy evaluation, personality assessments, diversity workshop trainings, culturally competent curriculum, organizational leadership and decision-making, or another special topic of interest. (While both are available to students, practice-oriented independent studies are not the same as independent studies traditionally defined. Contact your academic advisor or any applied sociology faculty for more information.)
For more information about the practice experience, Handshake (the University's platform that connects students to internships, employers and other opportunities), experiential learning opportunities and undergraduate research and inquiry, request a "Complete Guide to SOC 480" from any applied sociology faculty, or contact internship coordinator Katie Cooper or program director J.E. Sumerau.
On-Campus Associations and Affiliations
The Sociology Club organizes monthly discussions and activities that enhance the content of the applied sociology program. Events include documentary screenings and initiatives to promote positive social change, as well as panels about graduate school, internships, and careers in applied sociology. For more information about Sociology Club, please contact Katie Cooper.
Top-performing students may be eligible to join Alpha Kappa Delta (AKD), the international sociology honors society. For benefits of membership and eligibility requirements, please visit Alpha Kappa Delta and/or contact Pina Holway.
---