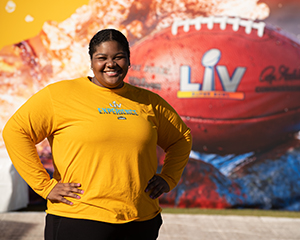 There were several opportunities for UT students to volunteer at the Super Bowl Experience for Super Bowl LV (55), which was hosted in Tampa in 2021.
There are many opportunities for volunteer experiences in the Sport Management Department. Some of those opportunities include the following:
Honda Grand Prix of St. Petersburg - Students participated in the ceremonies, staging, security and incident management of this IndyCar racing event.
Transitions Championship - At this stop on the PGA Tour, students helped manage the gates, ticketing, sales, 18th hole scoreboard and caddying for the ProAm.
University of South Florida Softball Series in the NCAA Division I

(1)

Softball Tournaments - Students managed game sites, reported scores, provided on-site organization and team direction.
Florida High School Boys/Girls Soccer Tournament - Students assisted with game management and organization.
NCAA Division II

(2)

Men's/Women's Soccer Championships - See above tournaments.
New York Yankees Street Team - Students were involved in promotion of the Yankees' spring training in Tampa, including distribution of schedules, ticket coupons, posters and marketing of the season.
Stadium Managers Association - Students attended a student workshop and interacted with industry leaders.
North American Society for Sport Management - With the University of Tampa as the conference host institution in June 2010, students managed presentations, registration, check-in and VIP assistance.
3DLax Spring Break 2010 - Students were involved in this lacrosse skills camp including operations, field preparations, teams and video footage.
---