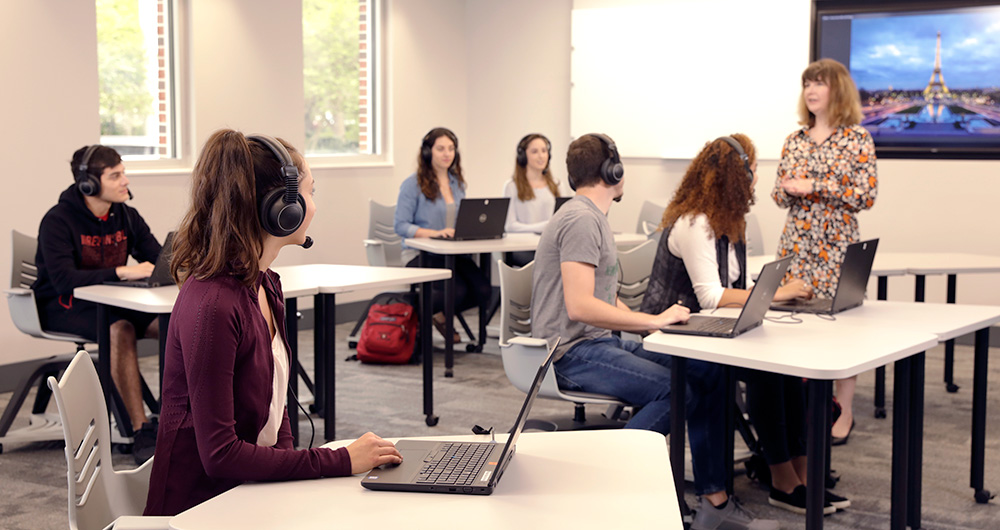 Programs
The Department of Languages and Linguistics offers a major in Spanish, various minors and a Certificate of Intercultural Engagement.
Once a student has taken a course at the 300 or 400 level, they cannot enroll in a 200-level course or below. Additionally, at the 100 and 200 levels, courses must be taken in sequence. For example, a student cannot enroll in 101 after having completed 102 or in 201 after having completed 202.
Majors
Bachelor of Arts in Spanish — The B.A. in Spanish provides a strong liberal arts background that leads students to attain proficiency in both oral and written Spanish as well as an in-depth understanding of the history and culture of Spain and Latin America. The program also provides a solid foundation in linguistics and an understanding of second language acquisition and pedagogy. The B.A. in Spanish is designed to prepare students for the globalized workplaces of the U.S. and abroad as well as for graduate studies in language, professional programs, teaching and a plethora of other careers.
Certificates
Certificate of Intercultural Engagement - Employers seek graduates who are proficient in at least one foreign language and who can successfully navigate the complexities of working with others of different cultures. The Certificate of Intercultural Engagement supports UT students of all majors in becoming interculturally competent bridge builders through language study, global knowledge coursework, global engagement activities and study abroad.
---