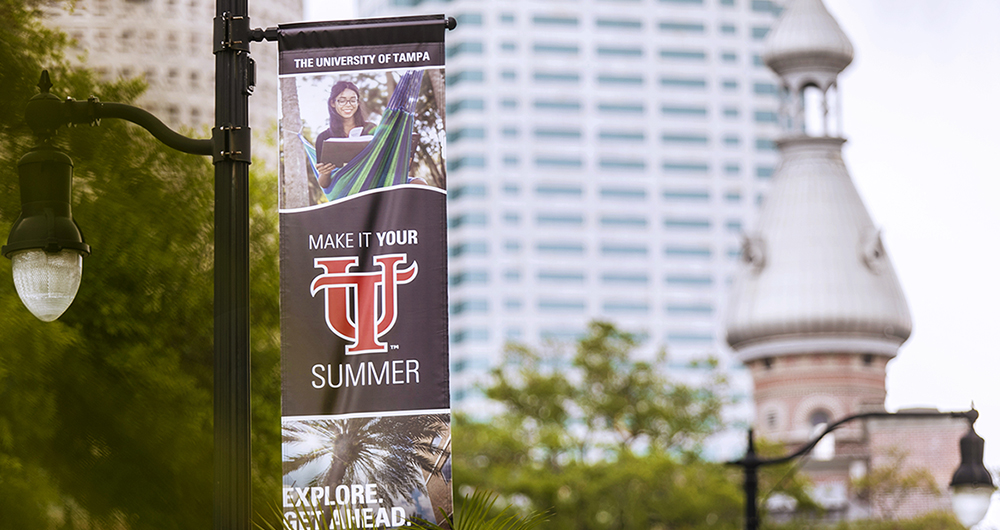 Plan to take your summer classes at The University of Tampa to catch up, get ahead or explore something entirely new.
UT students, register for your classes in Workday when registration opens. Talk to your advisor and financial aid early so you are ready.
New students, see Summer Registration for New and Visiting Students for application, registration, orientation and other pertinent information. New students are admitted to all summer terms, except the May Term.
Have a question not answered here, send it to summer@ut.edu.
The summer schedule opens for viewing Nov. 23, 2020.
Registration for Summer 2021 classes opens Feb. 22, 2021.
Application for summer residence hall housing due by noon on April 16, 2021.

Summer 2021 Academic Terms
May Term: May 10-May 21
Summer I: May 24-July 3
Summer II: July 6-Aug. 14
Summer III: May 24-Aug. 14
Summer IV (EMBA): May 15-Aug. 7
Summer V (EDU): June 7-July 31
Nonprofit Summer: May 12-July 27
MPA Summer: May 10-Aug. 20Last day to register for a summer internship: June 10
August degree conferral: Aug. 14

Summer housing. On-campus housing is available in the summer. For information about on-campus or off-campus summer housing, contact the Office of Residence Life. The application for on-campus summer housing is available in Simplicity and is due to Residence Life by noon on Monday, April 19, 2021.
---