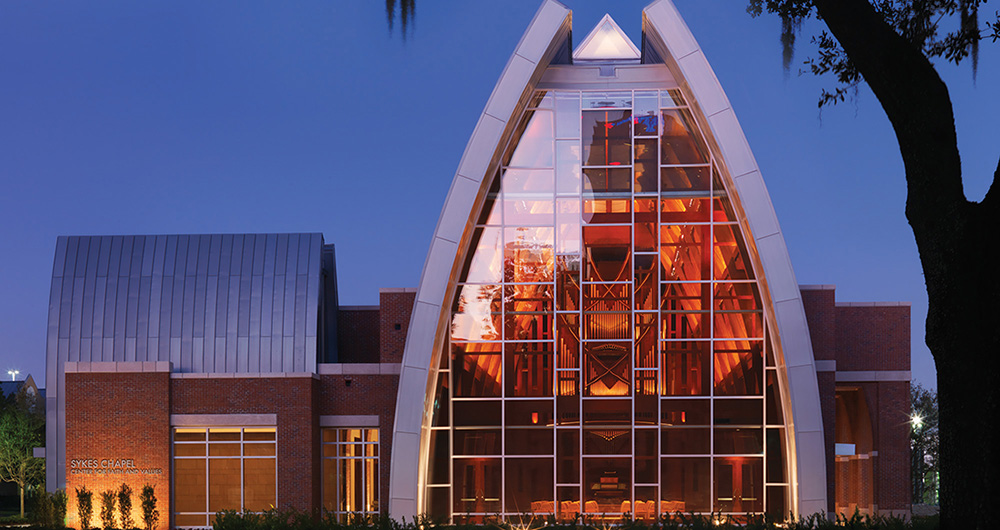 The Sykes Chapel and Center for Faith and Values is a visual statement of The University of Tampa's commitment to nurturing the development of character and values of its students. It is an inspiring setting for meditation and celebration of all faiths, enhancing the understanding of diversity, world cultures and religions, and improving religious literacy on campus are central to its mission. The University's intent is not to prescribe, but to aid students in developing a sense of purpose and self-awareness through reflection and learning to make decisions based on principles, beliefs and values.
It is UT's goal to become a model of understanding and cooperation. Through work with the Interfaith Youth Core, a Chicago-based international leader in interfaith cooperation, the University is building the framework for a sustainable interfaith leadership program. This partnership puts the University at the forefront of a White House initiative called the President's Interfaith and Community Service Campus Challenge that asks university presidents to commit to promoting interfaith cooperation and community service on their campuses.
The University of Tampa has numerous student organizations where discussions on character, values and religious issues are the primary focus. Through a growing UT Community Partners Program, more than 30 partnerships with community places of worships in the Tampa Bay area have been developed. The Resource Team for Faith, Values and Spirituality is a faculty, staff and student group that has been creating venues and platforms for the University community to engage in meaningful conversations. Some of these initiatives include a Community Conversations series, a weekend retreat, interfaith services, the Interfaith Harmony Week, a Spirituality and Film series and a book club. These community partnerships and related activities will continue to flourish under the umbrella of the Sykes Chapel and Center for Faith and Values.
---
---
---
Center Tours
Private tours are available upon request. Please contact Facilities Rentals at FacilitiesRentals@ut.edu or (813) 257-5235.