Published: April 05, 2021
The Video Whiz
SPARTAN SPOTLIGHT

Drew Townsend '02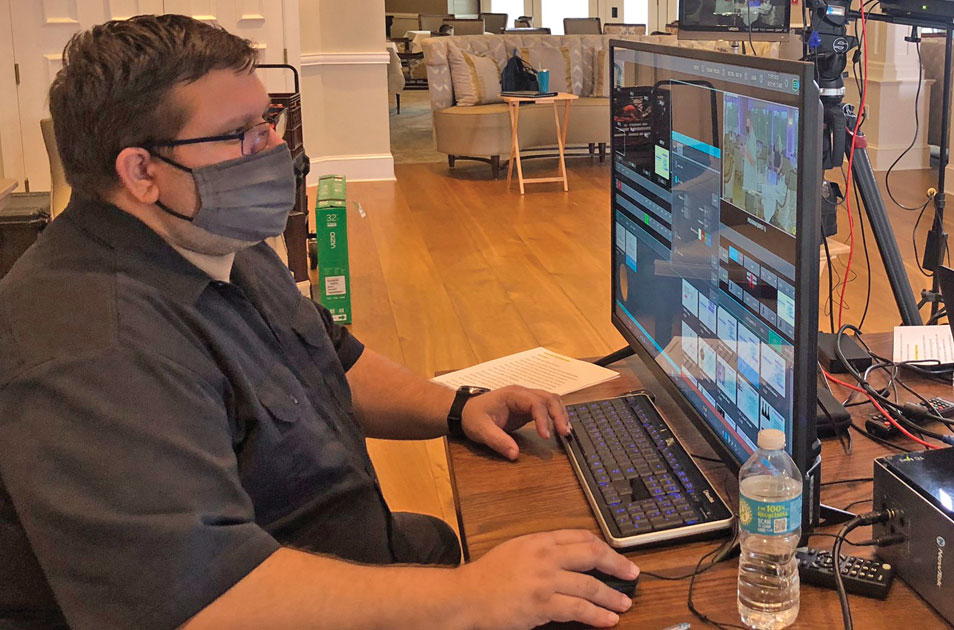 Drew Townsend '02, of The Naples Studio, works in the mobile studio on a live virtual gala.

Last year, when Drew Townsend '02 and his small video company won four Telly Awards (a gold, two silvers and a bronze), which honor excellence in video and TV annually, he was shocked — especially since he was up against giants like Microsoft and Verizon in the global competition.
"It was a huge pick-me-up," says Townsend, the owner of The Naples Studio in Naples, FL. He earned the gold award for a three-minute promotional video produced for Pulte Group, which owns DiVosta, a home construction company in Florida.
"It took us four months," he says of making the video that's now used on DiVosta's website and YouTube channel. "We spent a lot of time on color grading and audio mixing, as well as pacing the shots correctly for the market — not too fast or slow. It took three tries over three days to get one particular shot right because we had to wait for the weather to cooperate," he says.
His career path began when he interned at the company in high school. A few years after graduating from UT, he rejoined the company, and in 2011, he bought it and upgraded the equipment to shoot in high definition. "It was like Christmas the day my gear arrived," he says.
Townsend — a married dad of two sets of twins, ages 12 and 13 — sees video projects through from beginning to end, including developing concepts, operating the video camera, editing the footage and shepherding each project through post-production, either with the help of freelancers or on his own. He also writes the scripts and credits his communication major and English classes at UT for giving him that skill.
Last year, the pandemic presented a new challenge as he set out to continue offering top-notch service to clients, including Naples Community Hospital, March of Dimes, Panache Desai, Premier Sotheby's and Waste Management.
"I realized that a lot of my clients weren't going to have work for us, but I knew that a lot would need a way to livestream their galas and events," he says. "So, last April, I made an investment in some livestream equipment. It was a gamble as I didn't know if I would have the work to pay it off." He made the right decision, as his company is now producing galas for at least 30 clients.
Townsend feels lucky to be doing work that he loves and has been following his passion since he was a teen. "In high school, I edited a video for a friend's grandparents — one of those 'memories' videos. When the grandparents watched it, the family cried. In that moment, I became hooked on video production," he says.
By Lambeth Hochwald
Photograph Courtesy of Drew Townsend '02

---