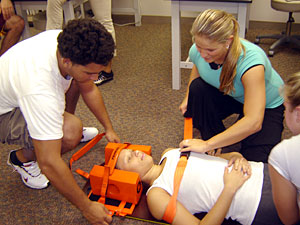 All applicants and students in the athletic training major must meet and continue to meet the approved professional standards of the program. No one who jeopardizes the health or well-being of a patient, coworker or self will be accepted into the program or continue as a student in the program. To meet the intellectual, physical and social competencies needed for professional requirements, all applicants and students must possess the necessary physical attributes and exhibit qualities of good judgment, mental strength and emotional stability.
Every applicant to the professional phase of the program is required to submit a written acknowledgement indicating that he or she has read and understands the technical standards related to the professional duties of the discipline. The program faculty will be responsible for applying the standards for their students and prospective students.
The health care professional's self-presentation is a vital part of the complex relationship among the athlete/patient, the health care provider and the health care delivery site. The athletic training program reserves the right to limit attire and adornments (such as clothing, jewelry, piercing, tattooing) of the body and its parts (such as hands, face, oral cavity). The program policies document outlines the enforcement of this policy. In all cases, a final appeal may be made to the dean of the college.
---