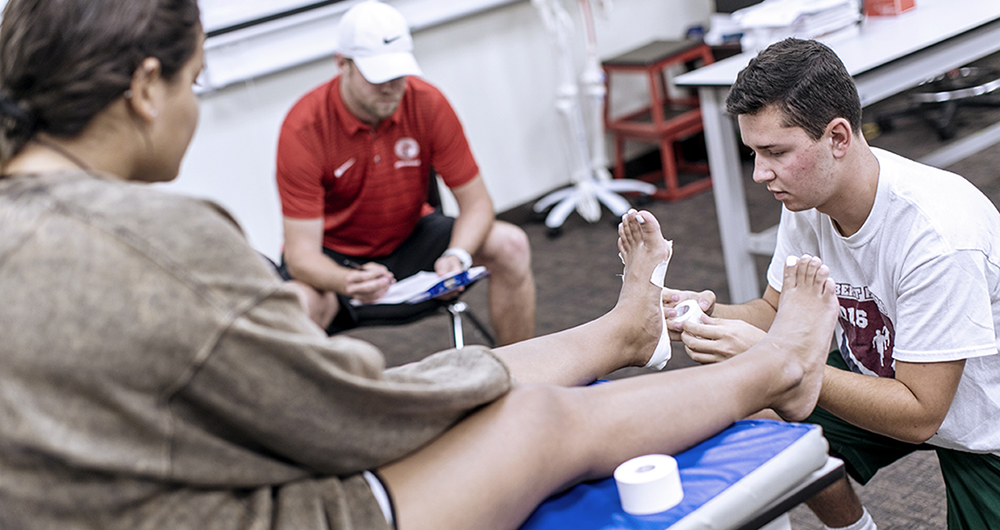 Athletic training encompasses the prevention, examination, diagnosis, treatment and rehabilitation of emergent, acute or chronic injuries and medical conditions. Athletic training is recognized by the American Medical Association (AMA), Health Resources Services Administration (HRSA) and the Department of Health and Human Services (HHS) as an allied health care profession.
The athletic training professional program is designed to offer the knowledge, skills and experience necessary for a student to become eligible to take the Board of Certification national examination. The program is structured to prepare students for professional practice in athletic training and graduate studies in athletic training.
This program is accredited by the Commission on Accreditation of Athletic Training Education
(CAATE). Because of the nature of the clinical education portion of the program, the athletic training program is selective, and space is limited.
The Commission on Accreditation for Athletic Training Education has mandated that all athletic training programs must result in granting students a Master of Science in Athletic Training. Specifically, according to CAATE, "Baccalaureate programs may not admit, enroll or matriculate students into the athletic training program after the start of the fall term 2022."
Important Program Notice
In preparation for this, The University of Tampa will not accept students for admittance into the undergraduate athletic training professional program after Fall 2022. The University of Tampa is currently working on plans to transition to a Master of Science in Athletic Training.
Topics of Study
Health Science
Nutrition
Medical Terminology
Human Anatomy and Physiology
Emergency Care in Athletic Training
Prevention and Care of Sports Injuries
Clinical Evaluation and Diagnosis
Therapeutic Interventions
Medical and Surgical Issues in Athletic Training
Health Care Administration and Quality Improvement in Athletic Training
Applied Kinesiology
Exercise Testing and Prescription
View UT's online catalog for all required courses.
Student Organization
Athletic Training Student Organization
The mission of the organization shall be to promote and advance the profession of athletic training, encourage education and the exchange of ideas, develop and maintain professional relationships and improve the profession of athletic training at The University of Tampa, the community and beyond.
External Resources
---