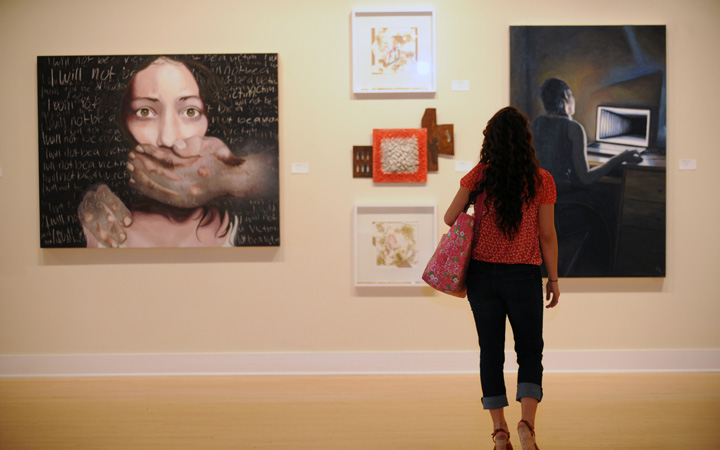 The Scarfone/Hartley Gallery's mission is to exhibit works of art as an extension of the classroom, providing an opportunity to view and study significant original artwork by contemporary national, international and regional artists. The Gallery also features work by College of Arts and Letters faculty, alumni and students during scheduled exhibitions, receptions, lectures and performances.
Programs receive support from the Arts Council of Hillsborough County, the Hillsborough County Board of Commissioners and The University of Tampa Friends of the Gallery.
Meridian Scholar Program
The Meridian Scholar Program (formerly known as STUDIO-f) is an innovative program that invites visiting artists and scholars for a 10-day residency to work directly with UT students in the creation of a dynamic, print-based art project. This unique program was designed as an atelier, an interdisciplinary workshop where students and master artists explore materials, processes and technology. Students have the opportunity to participate in the Meridian Scholar Program as a course, earning credits towards their degree. It is in this spirit of true research, applied innovation and scholarship that we build invaluable connections between our students and the world of contemporary art. The purpose of this program is to introduce national and international artists to the Tampa Bay community by giving students and art enthusiasts an opportunity to meet these artists and to see them working in the studio. In order to support this opportunity, exhibitions in the Scarfone/Hartley Gallery are often held during their residency.
Visiting artists included Sam Gilliam, Joyce J. Scott, Roberto Juarez, Miriam Schapiro, Audrey Flack, Pedro Perez, Ed Paschke, Willy Heeks, John Walker, Tom Lieber, Larry Poons, Sam Messer, James McGarrell, Robert Rahway Zakanitch, Stephen Greene, Katherine Porter, Hollis Sigler, Vitaly Komar, Alexander Melamid and Louisa Chase.
---
---
Follow us to see the latest updates from the Scarfone/Hartley Gallery.
Location:
Scarfone/Hartley Gallery
The University of Tampa
R.K. Bailey Arts Studios
310 N. Boulevard
Tampa, FL 33606
Hours:
Tuesday-Friday: 10 a.m.-4 p.m.
Saturday: 1-4 p.m.
Contact:
Jocelyn Boigenzahn
Director, Scarfone Hartley Gallery
(813) 253-6217
jboigenzahn@ut.edu