Our venues are only available for rent during the summer months of May through July.
Plant Hall's elegant ballrooms provide some of the most distinguished banquet and meeting facilities in the area. The ballrooms and public areas on the first floor remain in the same historical style as when Plant Hall was the Tampa Bay Hotel, built in 1891. Plant Hall houses three distinct ballrooms – the Music Room, the Grand Salon and Fletcher Lounge. Located under the minarets, each ballroom has a dome-shaped ceiling. The ballrooms' versatility and elegance make them an ideal site for wedding receptions, galas, graduation parties, dinners, seminars and meetings.
Fletcher Lounge
Floorplan (PDF)
Said to be "the most enchanting ballroom in Tampa," Fletcher Lounge was renovated in 1992 to its original state as the main dining room of the Tampa Bay Hotel. This spectacular ballroom is the largest of the three and has a multiple-domed ceiling and hardwood floors. There is a small kitchen area with a private entrance for caterers. This is the only ballroom with its own restrooms. Antique furniture accents the interior ambiance of the room. The furniture serves purely for decorative purposes, with the exception of two serpentine tables. The 6,400 square-foot facility serves as a dining salon for 230 guests.
Area:
6,400 square feet
Accommodations:
400 Theatre/230 Dinner
Grand Salon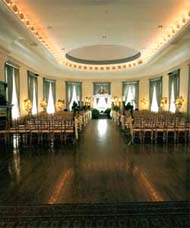 Floorplan (PDF)
Located next to the main lobby, this lovely ballroom is decorated in colonial blue and boasts a stage that runs the width of the room. The stage can accommodate a small band, disc jockey, or a head table for a wedding reception. The ballroom is encircled by a wide verandah and has a diminutive kitchen facility. This 3,200 square-foot room is perfect for cocktail receptions or conferences for up to 200 guests.
Area:
3,200 square feet
Accommodations:
200 Theatre/120 Dinner
Music Room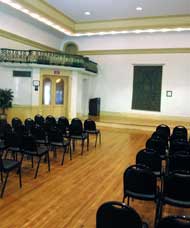 Floorplan (PDF)
This charming ballroom is located directly across the lobby from the Grand Salon. The Music Room also houses a small hardwood stage with a balcony above each side. In addition, this room has floor-to-ceiling windows, which lead out to a wooden verandah. The 2,400 square-foot room can hold an intimate group of up to 100 for seated receptions.
Area:
2,400 square feet
Accommodations:
150 Theatre/100 Dinner