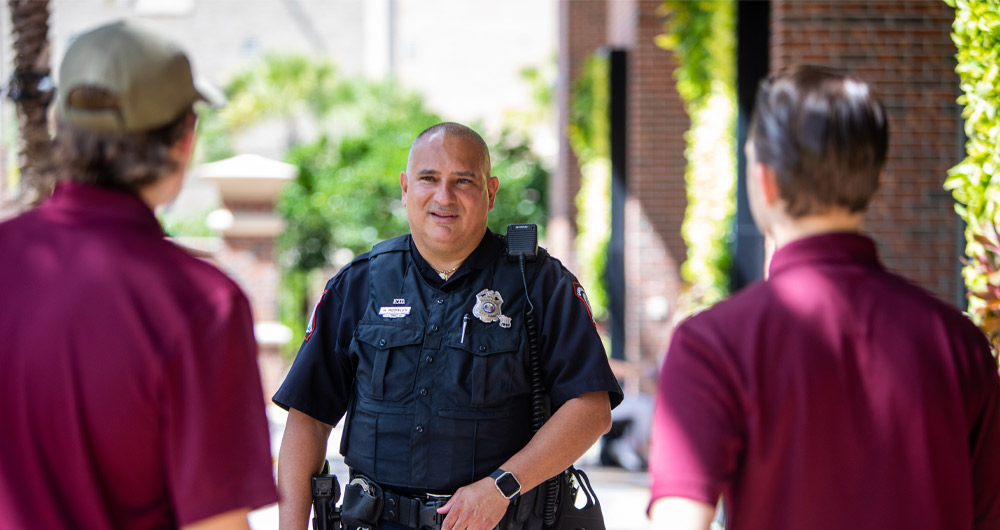 If you have been the victim of a crime, our first concern is for your safety. Make sure that you go to a safe place and then consider your reporting options.
If you have information about an incident or crime and would like to submit it anonymously, please visit the Silent Witness Form webpage. You can also report information by emailing silentwitness@ut.edu. All information will be kept strictly confidential.
The goal of the Spartan Support Program is to identify students in our community who appear to be troubled or troubling and intervene before the student reaches a crisis level. To this end, we require the support and participation of students, staff, faculty and parents to provide information to the program.
After being victimized, one of the last things a victim may want to do is report the incident. Reporting can be difficult, tedious and feel like a further violation. Yet, there are many good reasons to report. Reporting may help in overall recovery, feelings of personal safety and the ability to regain control over life.
The University of Tampa is committed to providing an environment free from discrimination based on sex and provides a number of resources and services to assist students, faculty and staff in addressing all aspects of discrimination including issues involving gender discrimination, sexual harassment, sexual misconduct and relationship violence, including sexual assault, dating violence, domestic violence and stalking.
Why Report a Crime?
We encourage all students who have been the victim of a crime to file a report for a variety of reasons. The first is to activate a security investigation to determine what follow-up should be taken. Another is to determine whether it is necessary to issue a timely warning bulletin to the campus community to warn them of a potential threat. Crime reports help to establish patterns which can aid officers in finding the perpetrator. Insurance or medical claims that may be made as a result of the incident often require a crime report. And finally, the University can assist you in reporting these incidents to local law enforcement agencies.
To Whom Should I Report a Crime?
Although most commonly reported to the Department of Campus Safety, crimes may be reported to a variety of University community members. Those members have been identified as:
Vice President for Strategic Enrollment Planning;
Vice President for Operations;
Vice President for Development and University Relations;
Vice President for Student Affairs;
Dean of Students;
Vice President of Human Resources;
Athletic Director; and
Student Affairs staff members (this includes staff in the Health Center, Student Conduct, Residence Life, Student Leadership and Engagement, Career Services and the Academic Center for Excellence.)
Staff members who receive crime reports from students or employees will fill out a Crime Reporting Form which is forwarded to Campus Safety.
Crimes may also be reported to local law enforcement agencies. The non-emergency number for Tampa Police Department is (813) 231-6130. For crimes occurring outside the city limits in Hillsborough County, you may use the Hillsborough County Sheriff's Office non-emergency number (813) 247-8200.
Responding to Reports
Campus Safety documents in-house reports on all criminal offenses reported on campus. The Tampa Police department is also contacted to originate the official Criminal Offense Report.
Crimes Occurring at Off-campus Organizations
At this time, The University of Tampa only maintains one off-campus facility. A downtown Tampa hotel, the Barrymore Hotel Tampa Riverwalk, is currently being used as a residence hall, and all crimes reported at that facility will be recorded in the University's campus crime statistics.
Confidential Crime Reporting
Confidential crime reports are accepted by Campus Safety directly or from other designated crime reporters. Confidential crime reports will not be included as an official campus crime until the event is corroborated by an identified source.
Policy Regarding Counselors and Pastoral Agents
The University does encourage counselors and/or pastoral agents, if and when they deem it appropriate, to inform the persons they are counseling of any procedures to report crimes on a voluntary, confidential basis for inclusion in the annual disclosure of crime statistics.
Emergency Situations
In case of an emergency call 911 or 9-911 from a campus telephone. After calling 911, notify Campus Safety, ext. 7777 from any campus telephone or (813) 257-7777 on non-campus phones, so that a Campus Safety officer can respond.
Communication with Campus Community
Numerous avenues are used to advise members of the campus community about campus crime and crime-related problems. Through campus publications, Campus Safety publicizes those activities requiring security responses. On a weekly basis, this information is provided to The Minaret, the student newspaper. In addition, Campus Safety periodically issues safety alerts on safety matters that are of concern.
---