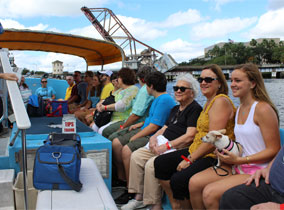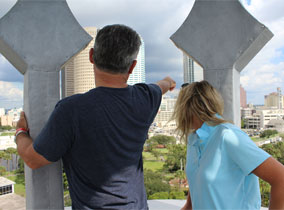 Celebrate being a part of the Spartan family!
Fall Weekend combines all the fun of Family Weekend and student homecoming into two eventful days for everyone. From riding in a Hillsborough River boat tour to watching a move on campus in Reeves Theater, there will be a variety of campus activities.
In a continuing effort to ensure we are providing our UT community a healthy environment during the COVID-19 pandemic, this year's 2020 Fall Weekend, formally known as Family Weekend, will be rescheduled for Oct. 1–2, 2021. According to CDC guidance, travel increases your chances of getting infected and spreading COVID-19. Therefore, families are not encouraged to travel to campus for the annual event. However, the offices of Orientation and Family Engagement and Student Leadership and Engagement still plan to offer UT students a variety of hybrid programs and events during Fall Weekend experienced virtually and in-person.
If you are planning ahead for Fall 2021, information regarding the 2021 Fall Weekend event will be available in Spring 2021. For the latest information regarding the fall semester, please refer to ut.edu/fall2020. For more information about the University's response to COVID-19, please visit the COVID-19 Resources and Updates webpage.
Please contact familyweekend@ut.edu with any questions or concerns.
---