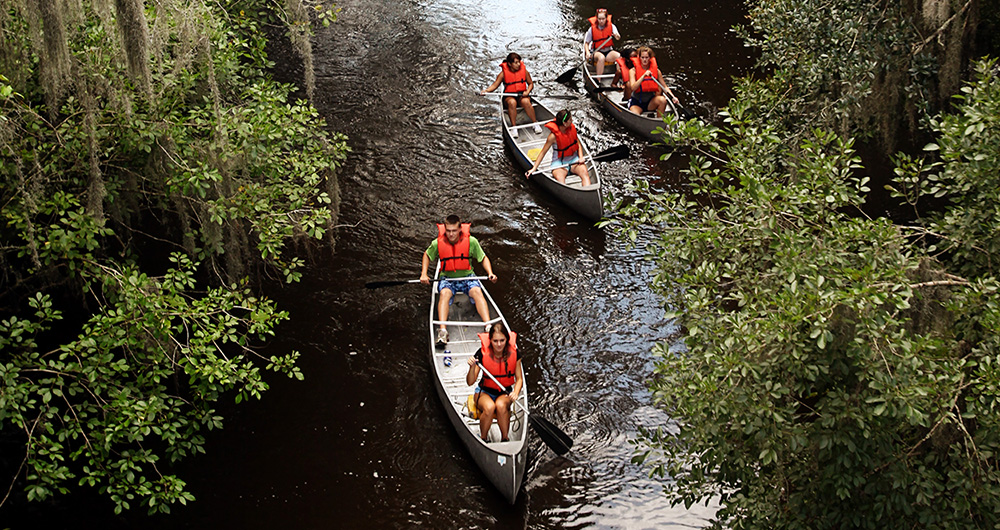 Discover UT
Committed to the skills, values and practices of effective leadership, the University invites all interested incoming undergraduate students to apply for an exciting leadership program: Discover UT! This highly interactive program serves as an entry point to leadership programs and opportunities at UT. Discover UT is a two-day, on-campus retreat scheduled before Week of Welcome for the fall semester. There is a $150 non-refundable fee associated with those who are accepted into the program. Payment is due prior to attending the retreat. A limited number of need-based scholarships are available. Applicants can request to be considered for a scholarship within their Discover UT program application.
The Discover UT Leadership Program program strives to:
Help students understand the basic values of leadership
Teach Spartan Ready® leadership skills and how to apply them in personal and organizational settings
Connect new students with leadership mentors on campus
Stimulate interest in the campus community and encourage active participation
Broaden the base of student leadership on campus
Discover UT Program Application
Click here to access the Discover UT program application for the Fall 2022 retreat session:
The application will ask interested students for a response of 250 words or less to the following questions:
What Spartan Ready® competency are you

most interested in learning more about/growing more proficient in?

Please describe a time that you have faced a challenge as an emerging leader and how that has impacted your leadership style today.
Below is the application and acceptance timeline for Discover UT:
Friday, June 3, 2022: Application due
Friday, June 10, 2022: Acceptance notifcations sent out via email
Friday, June 17, 2022: Scholarship notifcations sent out via email
Friday, June 24, 2022: Participant contract and payment due
Retreat Schedule*
Tuesday, Aug. 23, 2022

8 a.m.: Early Move-In for Discover UT Participants

Students will move into their rooms as assigned by the Office of Residence Life.

3 p.m.: Kick-Off Event (Location: TBA)

Wednesday, Aug. 24, 2022:

Discover UT Retreat Day 1

8 a.m.: Breakfast

9 a.m.: Welcome and Overview of Discover UT Program

10 a.m.: Large and Small Group Activities

12 p.m.: Lunch

1 p.m.: Life Maps

3 p.m.: Equity and Belonging Experience

5 p.m.: Dinner at Armature Works (off campus)

8 p.m.: Return to Campus; Late Night Event

Thursday, Aug. 25, 2022:

Discover UT Retreat Day 2

8 a.m.: Breakfast

9 a.m.: Campus Tours

10 a.m.: Off-Campus Excursions

12 p.m.: Lunch

1 p.m.: Campus Success Conference

3 p.m.: Team Building Experience

4:30 p.m.: UT Leadership Plan

5:30 p.m.: Wrap Up and End of Retreat

6 p.m.: UT @ Ybor Experience (off campus)

Friday, Aug. 26, 2022: University of Tampa's Week of Welcome (WOW) Official Start
*Please note the Discover UT retreat schedule is tentative and subject to change. Final schedule and any adjustments will be communicated with admitted participants.
Dress Code
Participants should dress as if they are participating in outdoor activities or a summer camp. It is Florida in August. It will be hot. Clothing suggestions are: T-shirts, shorts, cargo pants, sneakers/ joggers/tennis shoes, tank tops, etc. You must have close-toed shoes! Students will be staying in their assigned residence hall for the program so they will have access to whatever clothing items they bring with them to move in. Below is a list of potential activities Discover UT participants may experience:
Kayaking
Low Rope Course (Team Building Challenge Course)
Campus Tours
Escape Rooms
Late-night Social Events
Community Service Project
During the Discover UT program, we work with Metropolitan Ministries, a local organization, to donate items for our service project for the local homeless population in Tampa. We ask that participants bring donation supplies for the service project with them to the check-in.
Items must be new. We accept:
Shampoo and conditioner (travel size)
Toothbrushes
Toothpaste (travel size)
Deodorant (travel size)
Shaving cream for men and women (travel size)
Soap (travel size)
Razors
Combs and brushes
Dental floss
Mouthwash (travel size)
Bug spray
Sunscreen
Feminine hygiene products, ETC.
Students who need accommodations at any point in their time at UT should connect with the Student Accessibility Services Office and request accommodations. There is a question in the Discover UT application that will ask for any accommodations needed during the program.
Contact Information
For more information on UT leadership programs and opportunities, please contact Emilie Morris in the Office of Student Leadership and Engagement located in the Vaughn Center, Room 215 at (813) 257-3611 or eemorris@ut.edu.
ATTENTION: Due to COVID-19 ALL activities will be updated based upon current University of Tampa Policies at the time.
---