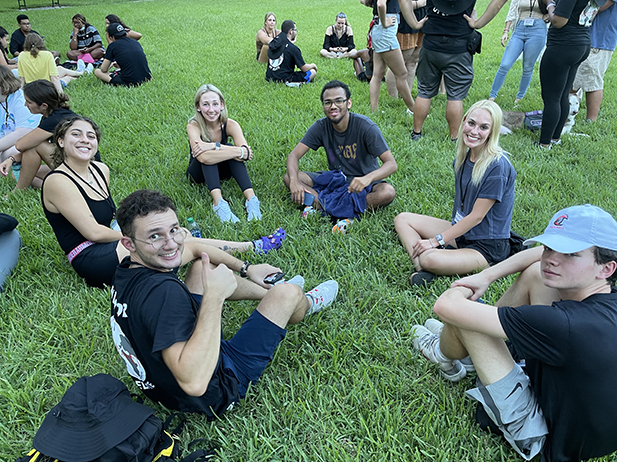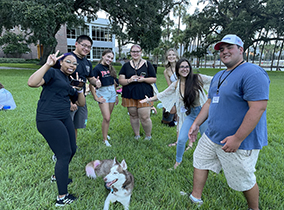 Discover UT
Committed to the skills, values and practices of effective leadership, the University invites all interested incoming undergraduate students to apply for an exciting leadership program: Discover UT! This highly interactive three-day, on-campus retreat serves as an entry point to leadership programs and opportunities at UT and is scheduled before Week of Welcome for the fall semester. Additionally, all students accepted in the program will be automatically registered for LED 200: Introduction to Leadership Studies for the Fall 2023 semester. This course opens the pathway for students to add a Minor in Leadership Studies.
As a result of attending the Discover UT Leadership Program, students will be able to:
Describe their personal understanding of leadership and Spartan Ready®.

Form new friendships and connections with other UT students.

Identify opportunities for involvement and leadership development on campus.
Discover UT Program Application
Click here to access the Discover UT program application for the Fall 2023 retreat session:
The application will ask interested students for a response of 250 words or less to the following questions:
What Spartan Ready® competency are you most interested in learning more about/growing more proficient in?
Please describe a time that you have faced a challenge as an emerging leader and how that has impacted your leadership style today.
Below is the application and acceptance timeline for Discover UT:
Monday, May 15, 2023: Priority application due date
Thursday, May 25, 2023: Final application due date
Thursday, June 1, 2023: Acceptance notifications sent out via email
Monday, June 5, 2023: Scholarship notifications sent out via email
Friday, June 9, 2023: Participant contract and payment due
There is a $150 non-refundable fee associated with those who are accepted into the program. Payment is due prior to attending the retreat. A limited number of need-based scholarships are available; applicants can request to be considered for a scholarship within their Discover UT program application.
Virtual Information Sessions
Join these sessions to learn more about the Discover UT leadership program, find out what you can expect, and ask any questions you may have!
Retreat Schedule*
Monday, Aug. 21, 2023

8 a.m.: Early Move-In for Discover UT Participants

Students will move into their rooms as assigned by the Office of Residence Life.

Tuesday, Aug. 22, 2023: Discover UT Retreat Day 1

12 p.m.: Opening Luncheon (Light Refreshments Provided) - Parents & Families are welcome!
1:30 p.m.: Discover UT Official Start (Bye parents & families!)

Mentor Reveal & Teambuilding Activities

4 p.m.: What is Leadership?
6 p.m.: Dinner & Game Night with Discover UT!

Wednesday, Aug. 23, 2023: Discover UT Retreat Day 2

8 a.m.: Breakfast
9 a.m.: Day 2 Welcome
9:15 a.m.: Small Group Bonding Activities
9:45 a.m.: Leadership & Spartan Ready Introduction
10:30 a.m.: MBTI Assessment
11:30 a.m.: Lunch
1:00 p.m.: Feeding Tampa Bay Volunteer Experience
4:00 p.m.: Back on campus
4:30 p.m.: Pre-dinner Break
6:00 p.m.: Pool Party with Student Productions

Thursday, Aug. 24, 2023: Discover UT Retreat Day 3

8 a.m.: Breakfast
9 a.m.: Off-Campus Adventure
11:30 a.m.: Lunch
12:30 p.m.: Community Connection Activity
1:30 p.m.: Life Maps
2:30 p.m.: Field Day Tournament
5:00 p.m.: Closing Event
5:30 p.m.: Wrap Up and End of Retreat

Friday, Aug. 25, 2023: University of Tampa's Week of Welcome (WOW) Official Start
*Please note the Discover UT retreat schedule is tentative and subject to change. Final schedule and any adjustments will be communicated with admitted participants.
Dress Code
Discover UT will incorporate both indoor and outdoor experience. Participants should dress as if they are participating in outdoor activities or a summer camp. It is Florida in August. It will be hot. Clothing suggestions are: T-shirts, shorts, cargo pants, sneakers/ joggers/tennis shoes, tank tops, etc. Students will be staying in their assigned residence hall for the program so they will have access to whatever clothing items they bring with them to move in. Below is a list of potential activities Discover UT participants may experience:
Kayaking
Volunteer Service
Campus Tours
Escape Rooms
Late-night Social Events
Contact Information
For more information on UT leadership programs and opportunities, please contact Emilie Morris in the Office of Leadership and Competency Development located in the Vaughn Center, Room 215 at (813) 257-3611 or eemorris@ut.edu.
---