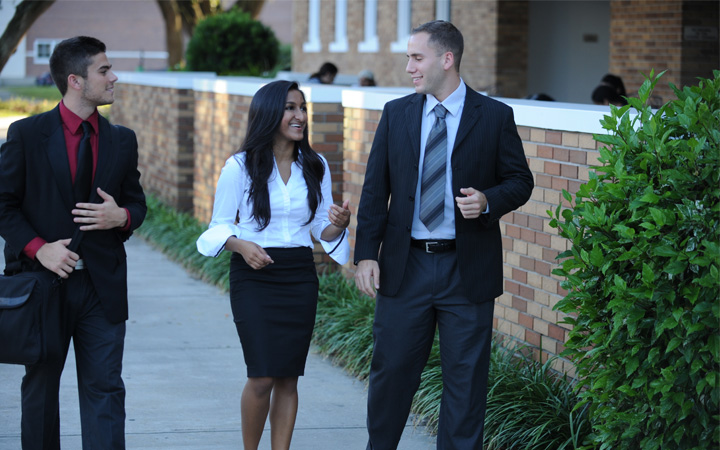 What is Spartan Ready

®

?
The University of Tampa graduates students who are prepared to be successful individuals with an advanced understanding of their field of study, the interdisciplinary workplace and how to be leaders who contribute to society.
Through co-curricular programs, students develop high demand competencies that are relevant for today's workforce. These make up the Pillars of Spartan Ready® which are supported by life skills education and training to be a professional.
Spartan Ready® Pillars and Stairs
Communication
Effectively and efficiently convey and receive information, both formally and informally, using verbal, non-verbal and writing skills amongst various stakeholders.
Critical Thinking
Envision and employ analysis, interpretation and reason using information and data through cognitive processes.
Global Engagement
Understand, appreciate, respect and learn from the complex social, economic, cultural and political nature of diverse peoples and their societies, and build meaningful connections and interrelationships.
Interpersonal Abilities
Develop personal insight in order to engage with others and create meaningful relationships, which will lead to effective collaboration.
Life Skills
Effectively meet the challenges and expectations of leading a fulfilling life.
Organization
Effectively and efficiently manage and/or systematize resources, time and individuals to accomplish goals and tasks.
Professionalism
Articulate oneself as a polished professional while utilizing appropriate acumen for a career environment.
Self-Awareness
Demonstrate an understanding of how inherent and/or developed personality traits and characteristics contribute to personal and professional success.
Teamwork
Successfully build, lead, manage, motivate and work with others.
Digital Literacy
The ability to leverage digital technologies to ethically and efficiently solve problems, communicate, create content, interpret data, complete tasks and protect personal information.
---
---
Spartan Ready®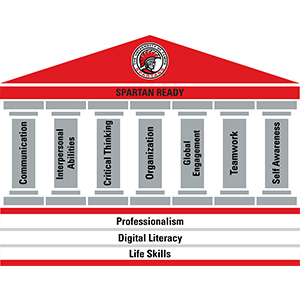 ---
---
On Campus Resources
---
Off Campus Resources
---