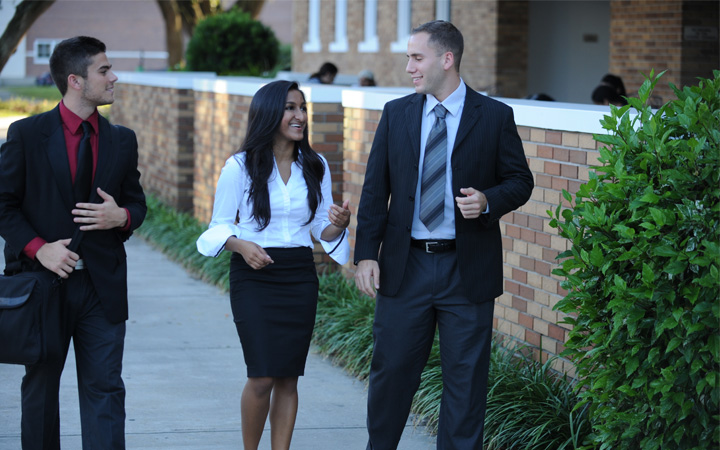 What is Spartan Ready

®

?
The University of Tampa graduates students who are prepared to be successful individuals with an advanced understanding of their field of study, the interdisciplinary workplace and how to be leaders who contribute to society.
Through curricular work in classes and co-curricular experiences, students develop high-demand competencies that lead to academic achievement, career readiness, life preparedness and social mobility. These universal core skills that transcend academic majors and workplace industries make up the Pillars of Spartan Ready® which are supported by life skills education, digital proficiencies and training to be a professional.
Spartan Ready® Pillars and Stairs
Communication
Clearly and effectively exchange information, ideas, facts and opinions with persons inside and outside of an organization.
Critical Thinking
Identify and respond to needs based upon an understanding of the situational context and logical analysis of relevant information.
Equity and Inclusion
Understand, respect and advocate for diverse perspectives and engagement with cross-cultural viewpoints individually, as a community and organizationally.
Interpersonal Abilities
Develop personal insight in order to engage with others and create meaningful relationships, which will lead to effective collaboration.
Life Skills
Effectively meet the challenges and expectations of leading a fulfilling life.
Leadership
Recognize and capitalize on personal and team strengths to achieve organizational goals.
Professionalism
Understand and demonstrate effective work habits, engage in continuous learning and act in the interest of the larger community.
Self-Awareness
Identify, articulate and promote one's skills, strengths, knowledge and experiences relevant to personal growth and professional success.
Teamwork
Build and maintain collaborative relationships to work effectively toward common goals, while appreciating diverse viewpoints and shared responsibilities.
Digital Literacy
Understand and leverage digital technologies ethically and efficiently to solve problems, complete tasks and accomplish goals.
---
---
Spartan Ready®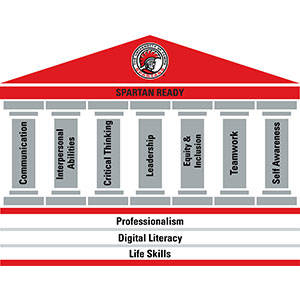 ---
---
---
---