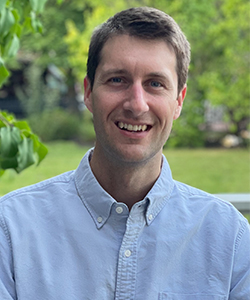 Meet Colin Anderson
Assistant Teaching Professor, Legal Studies
Email: canderson@ut.edu
Address: 401 W. Kennedy Blvd. Tampa, FL 33606
Mailbox: Q
Building: PH Room: 212

---
Education
2009 Boston College, B.A.
2016 University of Pennsylvania Law School, J.D.
2022 George Washington University, Ph.D.
Courses Taught
U.S. Constitutional History
Legal Writing and Research
Moot Court
The History of Mass Incarceration
Career Specialties
Colin Anderson is a lawyer and a historian who specializes in U.S. history, with a focus on the late-19th century. His research and teaching interests include the historical links between race, criminalization and culture, the development of racial segregation and teaching undergraduate writing.
He is the Director of UT's Law, Justice and Advocacy Minor.
Professional and Community Activities
Anderson is currently working on turning his dissertation into a book manuscript, tentatively titled Culture and Containment: Race, Geographic Mobility and Popular Culture in the United States, 1845-1900. His publications include the articles "Imagining Residential Segregation before the Ghetto: Representations of Black Urban Space and Mobility in the 'Darktown' Comics, 1877-1900," which is forthcoming in the Journal of Urban History, and "Segregation, Popular Culture, and the Southern Pastoral: The Spatial and Racial Politics of American Sheet Music, 1870-1900," which appeared in the Journal of Southern History in 2019. He has presented research papers at the annual meetings of the Organizations of American Historians, the National Association of African American Studies and Affiliates, and the International Association for the Study of Popular Music.
Anderson is also the coach of The University of Tampa's Moot Court team.
Honors and Awards
Anderson graduated cum laude from the University of Pennsylvania Law School and was executive editor of the law school's Journal of Law and Social Change. He has received research fellowships from the Library Company of Philadelphia, the Clements Library at the University of Michigan and the Jeffrey C. Kasch Foundation. He is admitted to the Bar in Massachusetts.