Published: October 06, 2022
The Gift of a UT Education
SPARTAN READY PHILANTHROPY
One student shares her inspiring story.
By Janet Siroto
Growing up in Tampa, Alexandra "Alley" Rodriguez '22 was a curious, creative child who loved learning and studying the world around her.
Her keen mind didn't escape her parents' notice.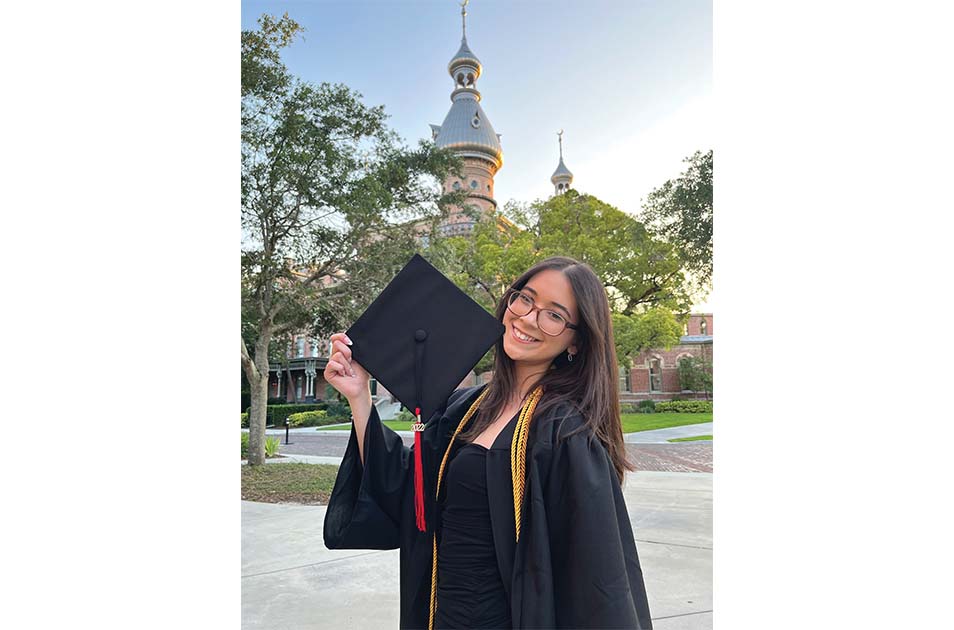 Alexandra Rodriguez '22 plans to attend graduate school after graduation. Photo courtesy of Alexandra Rodriguez '22
"Neither of my parents attended college, and they both pushed me and my sister to focus on our grades and take advantage of the opportunities they wished they could have had growing up," Rodriguez says. After her parents divorced when she was eight, Rodriguez was raised by her mom, who instilled in her daughters that they were capable of great things.
Driven by that desire to achieve, Rodriguez was soon on the path to living her dreams, thanks to an assist from UT.
MOTIVATED BY THE HUMAN MIND
With her parents' encouragement and her innate work ethic, Rodriguez was a motivated student. She was laser-focused on attending college and becoming a scientist, though at first, she wasn't sure exactly what kind. When she was a high school sophomore, her plans gelled in a specific direction. She took her first psychology course, and boom! She found her passion — the human mind — and set her sights on becoming a neuropsychologist.
The answer to the question "Where should I study?" became a no-brainer. UT's campus loomed large. She visited often, whether for a prom photo session or to see her older sister, Amanda Rodriguez '17, who also happens to be a Spartan. When Rodriguez set foot on UT turf, she simply didn't want to leave.
"I fell in love with the campus," she recalls, "and felt as if I belonged there. When I toured other college campuses, none could compare with the way I felt when walking around UT."
A VERY GOOD MAIL DAY
Attending college at her happy place, however, was not at all a sure thing. When senior year of high school rolled around, Rodriguez applied, though she doubted her family could afford to send a second child to UT. When the folder arrived with her acceptance letter and a generous scholarship, she didn't even try to contain her excitement.
"I phoned my grandparents, and the whole family burst out screaming and cheering together," she says. To know she could pursue her academic aspirations at her dream school was a moment of pure joy.
Once Rodriguez was on campus, UT certainly didn't disappoint. Her professors were inspiring and supportive. "They have always believed in me and pushed me to achieve more than I thought I was capable of," she says.
UT: WHERE OPPORTUNITIES ARE PLENTIFUL
Beyond giving Rodriguez the chance to study psychology in depth and be nurtured by amazing academics, Spartan life brought other bonuses. Rodriguez was among 30 first-year students who are chosen each year as the President's Leadership Fellows. This scholarship program mentors each participant, guiding them to become socially responsible leaders who empower those around them.
What's more, her fascination with the mind led her to join Psi Chi, the international honor society for psychology, conduct research with professors and find work with PAR Inc., a company that creates psychological assessments used in clinical settings. All told, it was exactly the kind of "brain food" that fueled Rodriguez's desire to further her studies.
Rodriguez is now continuing her work at PAR Inc. while readying her graduate school applications. Once she has more clinical psychology training, she plans to focus on working with older adults who are experiencing neurocognitive disorders. Rodriguez hopes she will be able to help patients and families dealing with dementia, lightening their load and improving their quality of life.
Wherever she may pursue her studies of the mind, her heart will remain true to UT. "I am so thankful for my time at UT," says Rodriguez. "It allowed me to further my education, just as I have always dreamed of, and to always strive for more."
---