Getting a Leg Up on Graduate School
By Laura J. Cole
Photography by Alex McKnight
Thanks to a recent initiative called UT2UT, a growing number of alumni are either staying at — or returning to — UT to join one of the University's 25 graduate programs and leveraging the opportunity to achieve their goals.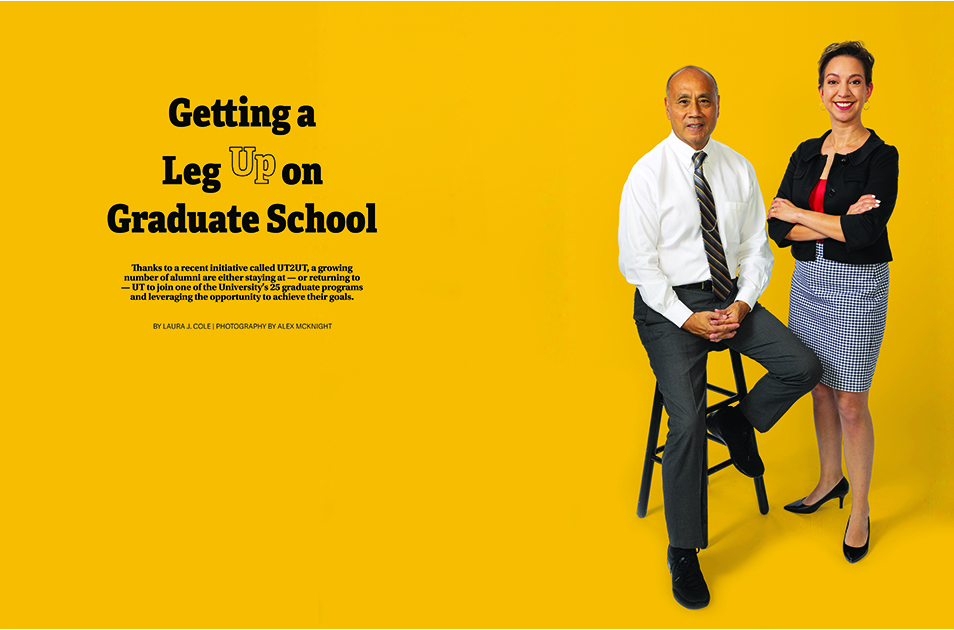 Art Goon, assistant vice president and executive director of graduate and continuing studies, and Tina Gutierrez-Brewster, admissions counselor, are encouraging Spartans to take advantage of all the incentives the UT2UT program offers.
The adage that a master's degree is the new bachelor's degree isn't wrong.
The number of people age 25 and over whose highest degree is a master's more than doubled between 2000 and 2018, skyrocketing from 10 million to 21 million, according to the U.S. Census Bureau.
But there are several factors that can easily hold people back from getting a master's — such as the time it takes to apply and attend classes, the cost of tuition and the nuisance of possibly having to prep for an exam like the GRE or GMAT.
The University of Tampa's UT2UT initiative, which launched in 2019, has the potential to remove many of those barriers for Spartans, making it easier, faster and less expensive to further their education at one of their alma mater's 25 graduate programs.
Any Spartan — whether they completed their undergraduate work in May 2022 or many years ago — is eligible for this pathway. In fact, even current students can plan ahead and take advantage of some bachelor's-to-master's programs that will get them across the finish line faster.
"For us, the idea is a no-brainer," says Art Goon, assistant vice president and executive director of graduate and continuing studies. "If students are successful in our undergraduate programs, they'll be strong candidates for our graduate programs."
Some program incentives include:
Earning guaranteed admission in nine programs if the applicant meets a GPA threshold (which varies based on the program)
Pursuing one of six bachelor's-to-master's programs (some are called "accelerated" and some are called "4+1") that allow a student to graduate sooner
Receiving special consideration for one of 60 graduate assistantships, which cover the cost of tuition and offer a stipend
On top of that, admissions counselors such as Tina Gutierrez-Brewster, are available to help students and graduates figure out their next steps.
"Really, it starts with the question: What is your goal?" says Gutierrez-Brewster. "Let's pretend I'm talking to a senior who is in the College of Arts and Letters and wants to have more options for their career when they graduate. We'll talk about some of the options they have available to them at UT, such as the M.A. in Professional Communication or the M.A. in Social and Emerging Media."
All in all, it's no surprise that the initiative has been increasingly popular. Over the last three years, 125 Spartans have earned a graduate degree through UT2UT. Here, three of them share what made the opportunity so appealing and fulfilling.
SAVING TONS OF MONEY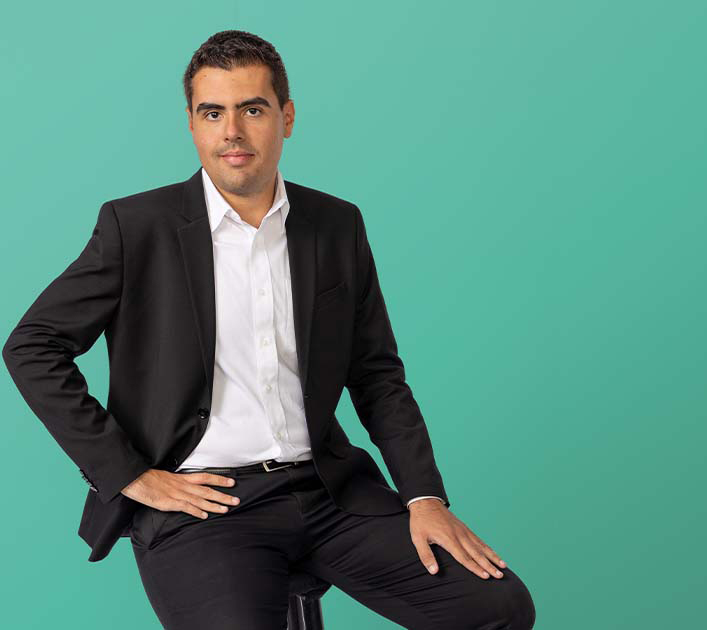 Shawn Ferreira '21, M.S. '22 earned a graduate assistantship that covers his graduate school tuition at UT — and provides a stipend.
When it came time to finish his undergraduate studies, accounting major Shawn Ferreira '21, M.S. '22 knew he could either go straight to work or earn a master's in accounting. His dream has always been to become a certified public accountant, so graduate school made sense.
But why choose UT's master's in accounting program? Beyond knowing that it was an excellent program on a campus he already knew and loved, he learned from his admissions counselor that he was eligible to apply for one of 60 graduate assistantships that would cover the entire cost of tuition and provide a stipend of $1,500 every semester. For the first-generation student from Kenilworth, NJ, it wasn't a hard decision.
Though graduate assistantships are competitive, UT gives special consideration to Spartans. To be eligible, you must be a full-time student, which means completing at least two courses per semester. For his assistantship, Ferreira works 20 hours a week in the graduate business office doing clerical work — and the role has provided him more than just major savings.
"The office experience has helped me gain professional skills, such as organizational and time-management skills, that make me stand out to prospective employers," he says. "I've also gotten to meet so many different people, including students and alumni, who may help open doors for me later, especially when it comes to networking and future employment opportunities."
But he doesn't need too much help. Months in advance, Ferreira has already snagged a position as tax associate with Grant Thornton, a tax reporting and advising firm, that will begin shortly after he graduates with a master's degree this December.
"UT has been so great, and the people are so inviting that I'm happy to stay in the Tampa area. This is home," he says.
EARNING GUARANTEED ADMISSIONS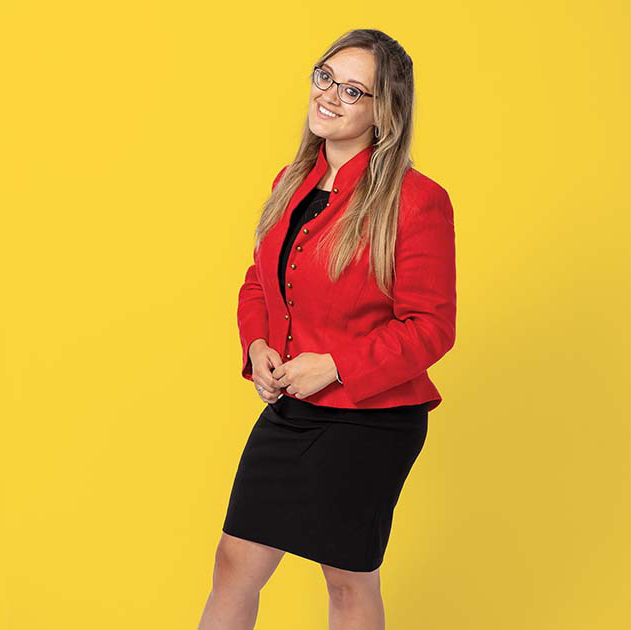 Jacie Steele '21, M.A. '22 was automatically accepted into a graduate program at UT, thanks to her high GPA.
Having grown up on military bases across the United States, as well as in Germany and Japan, Jacie Steele '21, M.A. '22 knew two things when she was a teenager applying to colleges: She wanted a warm climate, and she wanted to be involved with marketing.
UT offered the best of both, and Steele ended up majoring in marketing and minoring in communication.
"When I toured the school, I fell in love," she says. "All the benefits and perks of going to UT were great — being in an innovative and emerging city, small class sizes, ways to get involved, great educational and professional opportunities."
Steele is interested in earning several advanced degrees, and she saw no reason to wait to get started. While finishing an undergraduate degree, Steele applied to UT's M.A. in Social and Emerging Media (MASEM) program and was able to take advantage of UT2UT's guaranteed admission option for Spartans, since her GPA was above the 2.75 minimum that's required for that program.
The MASEM program is among nine graduate programs — in fields including but not limited to educational leadership, instructional design and technology, nursing practice, and exercise and nutrition science — that offer the guaranteed admission incentive. For Steele, that incentive included having her application fee and recommendation letters waived, saving her time and money. This allowed her to stay focused on her studies.
"I chose the MASEM program because it's an innovative new program that provides an opportunity for people who might not be very experienced in the arts to be able to participate and learn more about social media strategy, content creation, video production, graphic design and things of that nature. The fact that I'm partnering a creative master's degree with my business-oriented degree is giving me a well-rounded perspective going into the marketing industry that makes me stand out from other candidates," she says.
More importantly, it's helping Steele pursue her goal of becoming a digital strategist. She is interested in combining her marketing skills, strategic mindset and creative talents. Currently, she's doing just that as a social media marketing intern for SOFWERX, a technology incubator for initiatives for Special Operations Forces.
Steele has found everything she needs to succeed at her alma mater.
"I just love UT," she says. "I believe that the faculty here help create dedicated and inspired young professionals who are the best at what they do. Why would I go anywhere else for graduate school?"
EARNING A FASTER MASTER'S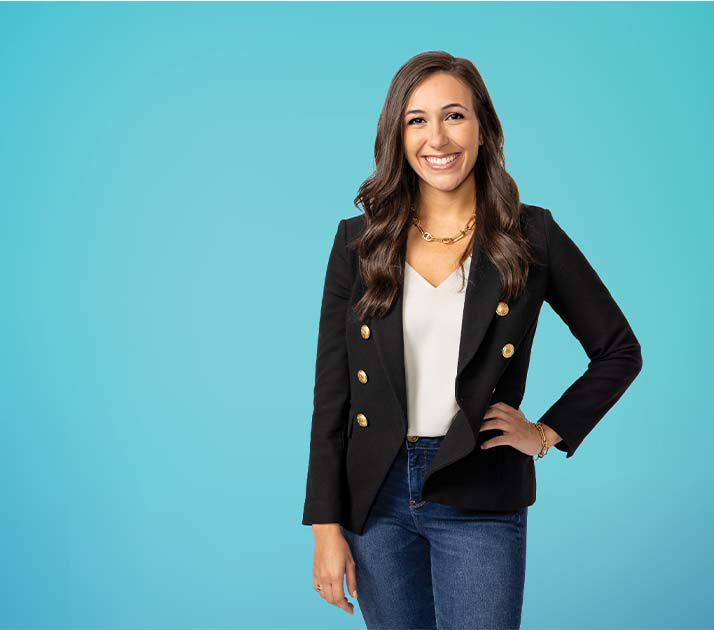 Leslie Speranza '19, MBA '19 earned both a bachelor's and master's degree at UT in just four years.
Leslie Speranza '19, MBA '19 knew she was eligible for the UT 4+1 MBA program, which allowed her to earn a master's more quickly, once she earned a grade of B or higher in all of her upper-core undergraduate business courses. And she couldn't wait to be a part of the program.
"People in the Tampa Bay area are familiar with UT and the 4+1 MBA program, and there's a level of prestige that comes with it," she says.
That prestige helped her secure an internship with General Dynamics (GD), a global aerospace and defense company, which proved to be a valuable learning experience alongside her studies. In fact, she was such a star intern that GD hired her later as a financial analyst — her first full-time job.
And she paid it forward. During her time at GD, she hired four students from the UT 4+1 MBA program to work in GD's finance department. "I specifically looked for people from there because I know that they're intelligent, driven and care about the quality of their work. I also know the quality of the education they're getting," she says.
Reflecting more on that education, Speranza, who is now an account executive at Gartner, a technology research and consulting firm, is thrilled that UT gave her such a big head start on her career.
The UT 4+1 MBA program is designed to help students graduate with a master's degree in five years, rather than the typical six. Speranza was even speedier and did it in four. That's because the international business major applied credits she gained in high school from AP and dual-enrollment courses to count toward her first year. And she was able to apply her merit scholarship toward the first-semester costs of her MBA because it was charged at the undergraduate rate.
"My first semester was significantly cheaper than it would've been if I were just coming into an MBA program after a few years off," she says. "That was huge."
The financial perks didn't end there. Speranza went on to leverage her master's to negotiate a salary $15,000 higher than what she would have received with only a bachelor's degree as an entry-level financial analyst.
Another plus: not having to go back to school later while juggling full-time work.
"Going right from undergrad into grad school, I was at the top of my study game, had my routines down and a lot of my peers were still in that phase of life with me, as well, so going to school and studying didn't throw a wrench in my personal life," Speranza says. "I was able to finish without any big hurdles."
---