Campus Oasis
By Madeline McMahon
Photographs by Marc Vaughn, Dhonnie Labang, Jessica Leigh, Bob Thompson
The newly expanded Benson Alex Riseman Fitness and Recreation Center offers the UT community a healthy getaway from the daily grind.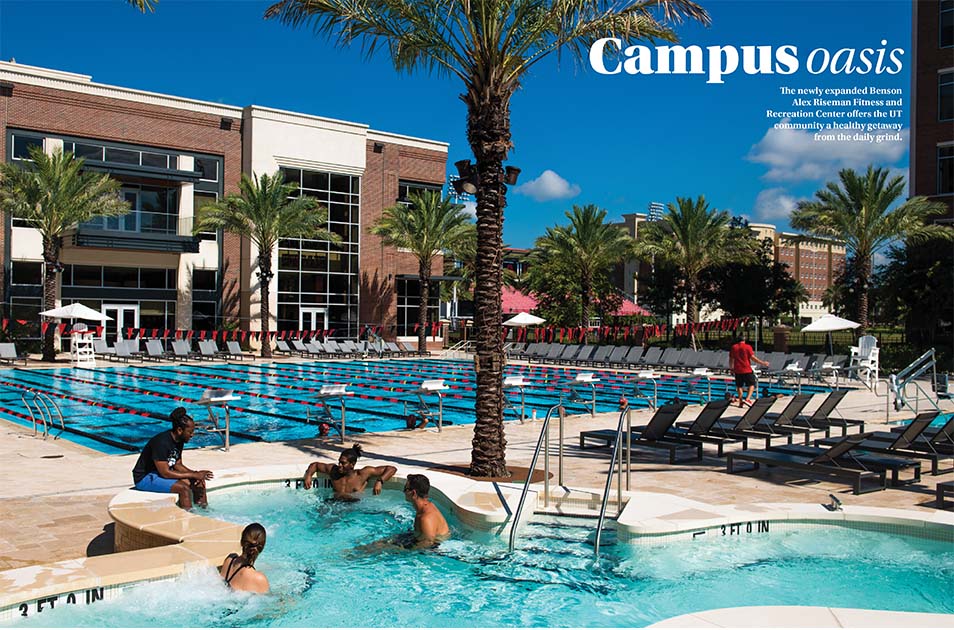 Get excited: The highly anticipated phase II expansion of the Benson Alex Riseman Fitness and Recreation Center is now complete. Phase I of the center opened in September 2016 as a two-story, 40,000-square-foot facility. A large gift from Benson "Alex" Riseman '78, a longtime supporter of the University, made the second phase possible.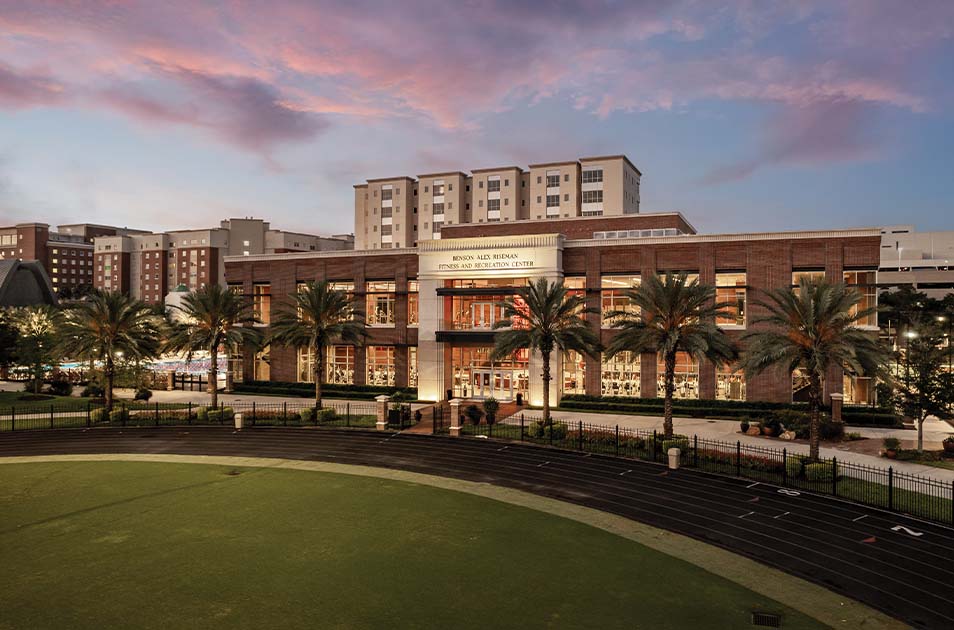 The dazzling center now includes additional workout and exercise space, along with a new aquatic center, beach volleyball complex and basketball courts, as well as academic classrooms, offices and laboratory spaces. The entire recreational complex is now more than 130,000 square feet. It's the perfect place for students, faculty and staff to focus on their physical and mental health. Ready to see the space? Take this visual tour.
For those who want to break a sweat, 96 pieces of cardio await them on the main floor — including treadmills, elliptical machines, stationary bikes, rowing machines, stair climbers and more. The machines all face large windows, which allow sunshine to flood the room and provide a gorgeous view of the track.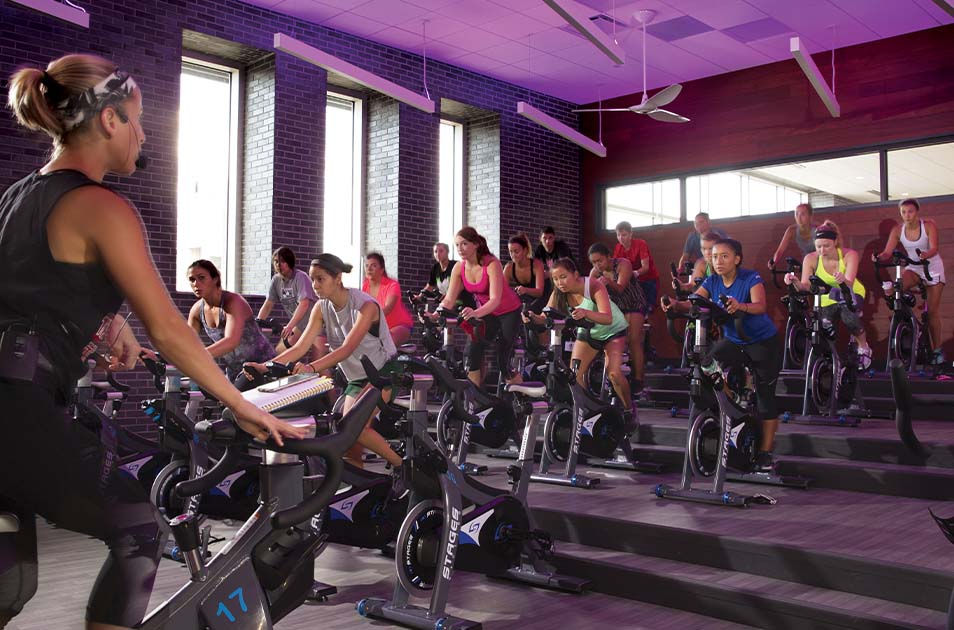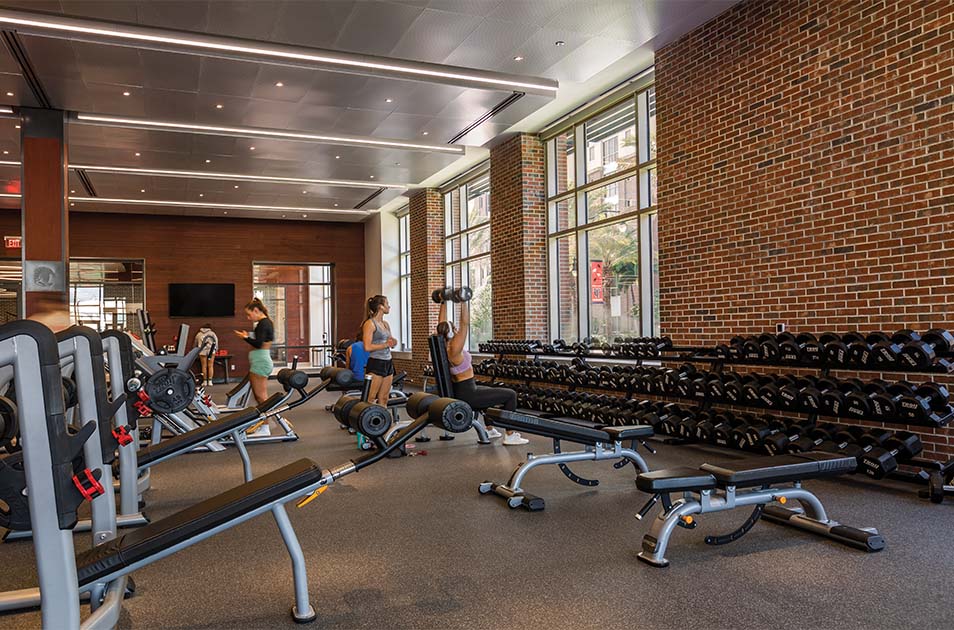 If classes are more enticing, students, faculty and staff have a wide variety of options, such as spinning, barre, cardio kickboxing, yoga, full-body HIIT, abs and glutes classes and more. In fact, 40 group fitness classes are held every week. And whether it's leg day or arm day, the strength training area contains more than 7,500 pounds of dumbbells, 22 benches and 57 training machines.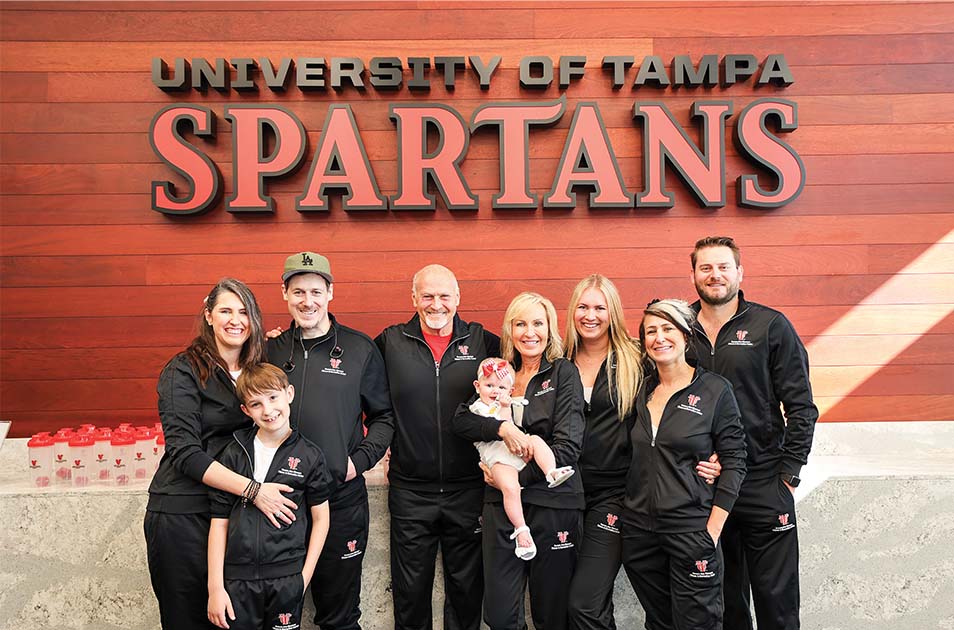 Benson "Alex" Riseman '78, the lead donor for the phase II expansion, is so proud to see this vision come to life. Pictured above, fourth from left, he attended the March grand opening with his family in matching UT tracksuits. Riseman, a business administration major, UT baseball player and active student leader, went on to become co-founder of Green Dot Corp. Now, he is president and CEO of BENSEA Enterprises. When he reflects on how far his UT experience has taken him, this donation has a special meaning:
I came to UT from the Boston inner city of Chelsea. I was an only child. My father passed away when I was six, and my mother couldn't read or write. As the benefactor of community philanthropy I had enough money to pay for my first semester, but always had to worry how I would make it to the next semester. I figured it out by applying for financial aid, earning a baseball scholarship and becoming an RA in my dorm. To go from struggling each semester to having a building on campus with my name on it, is what dreams are made of. My gift is in the name of LOVE for the University; LEADERSHIP in setting an example for others to follow; and LEGACY in providing a building that promotes a healthy lifestyle for all.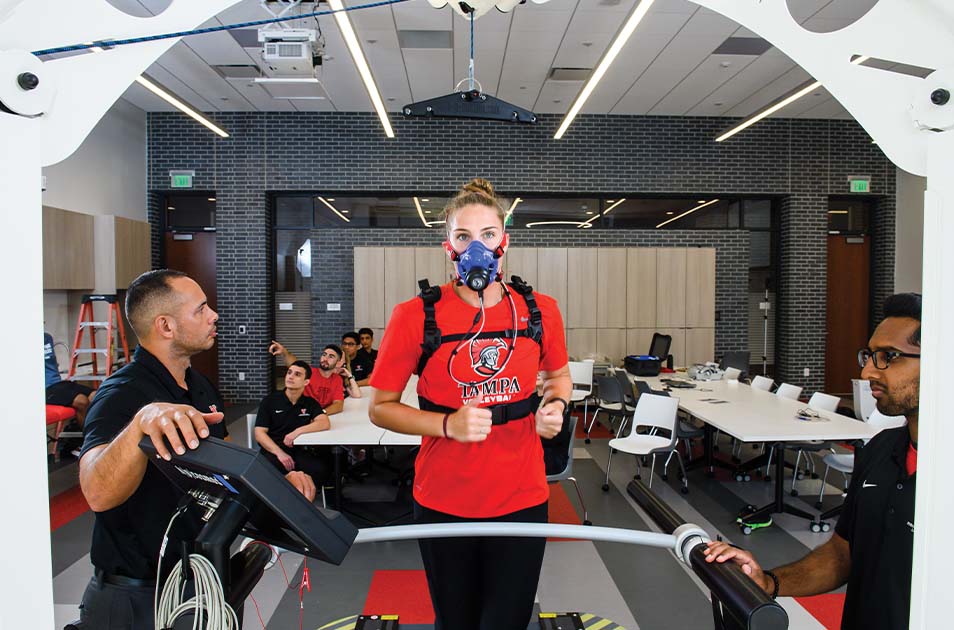 An upgraded human performance research lab (photos above) helps students learn how to measure oxygen, blood lactate and more.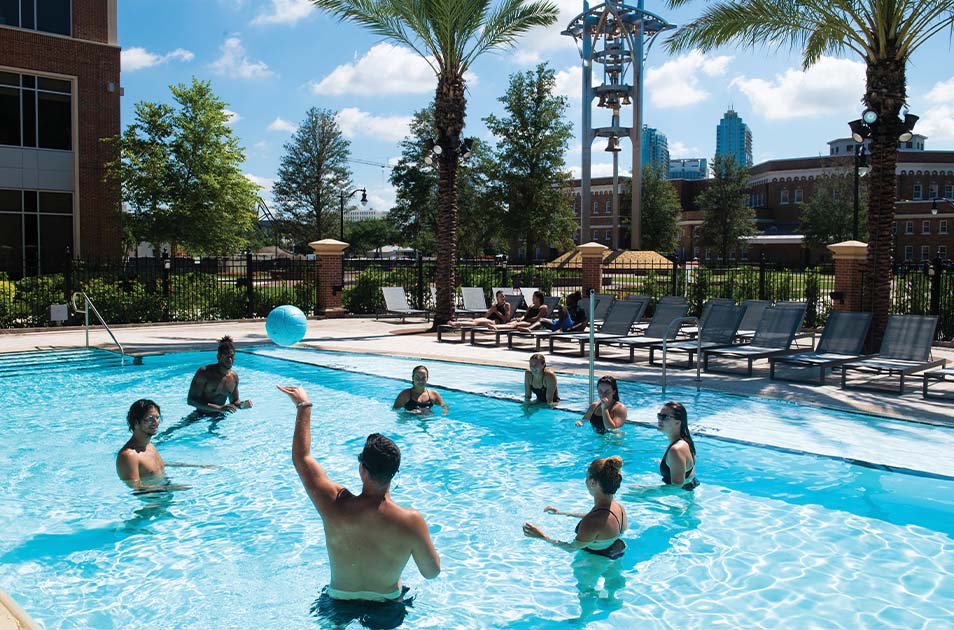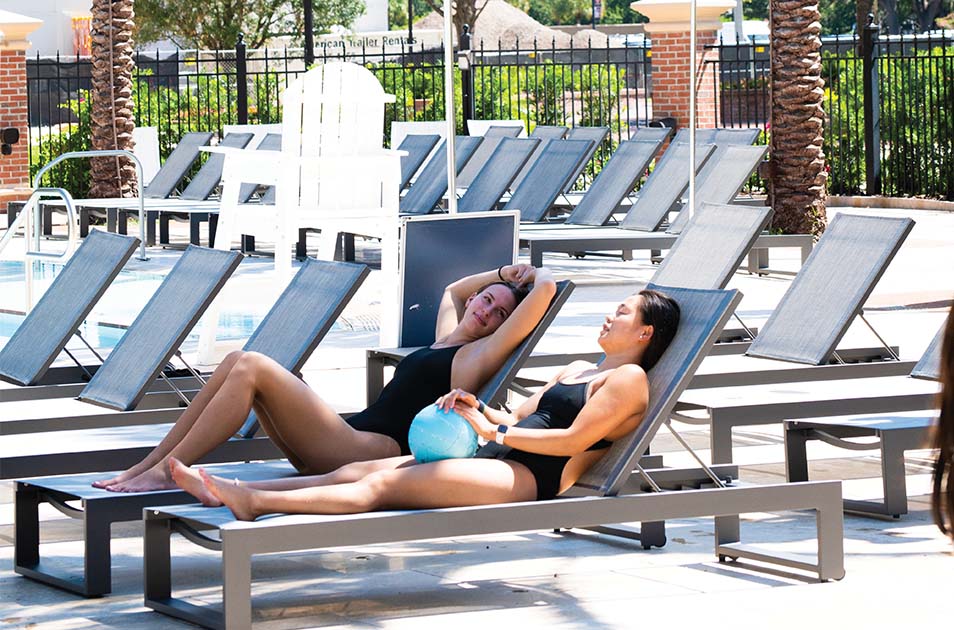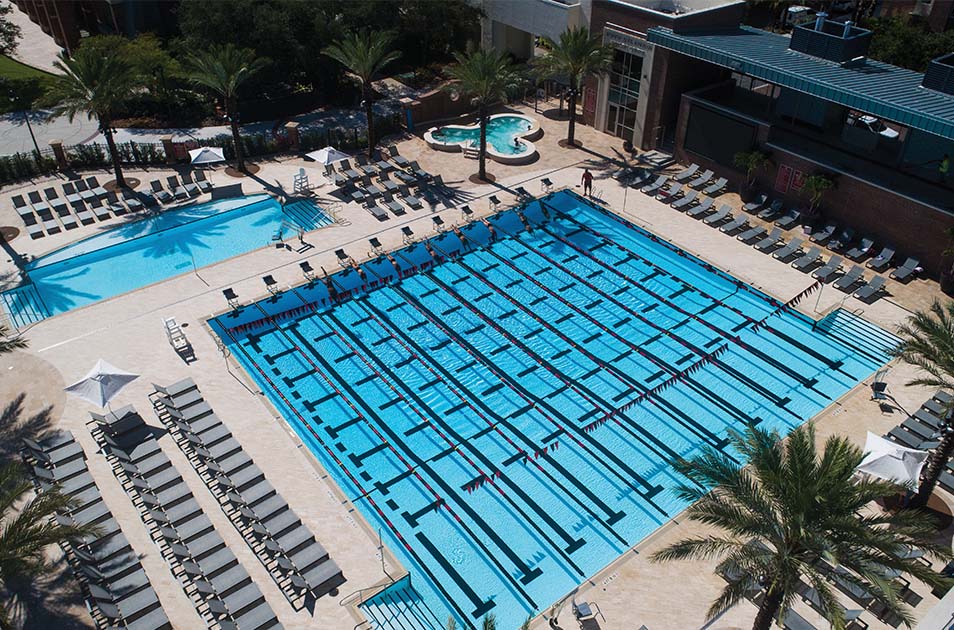 The Benson Alex Riseman Aquatic Center has three different pool areas: a lap pool, a recreational pool and a clover-shaped, 18-person hot tub. The Olympic-sized, 11-lane, 25-yard lap pool is home to the UT men's and women's swimming teams. (The original lap pool, which was in a different location, has been demolished.) In the photos above, students enjoy the recreational pool and lounge area. The aquatic center also features a large screen (for showing swimming times, messages, movies and more). A separate, two-story pool house includes a viewing balcony, visiting team facilities, restrooms and storage.
"I've always been passionate about fitness, and I liked how this building would have good energy that would heal and help students."
—Benson "Alex" Riseman '78, lead donor of the center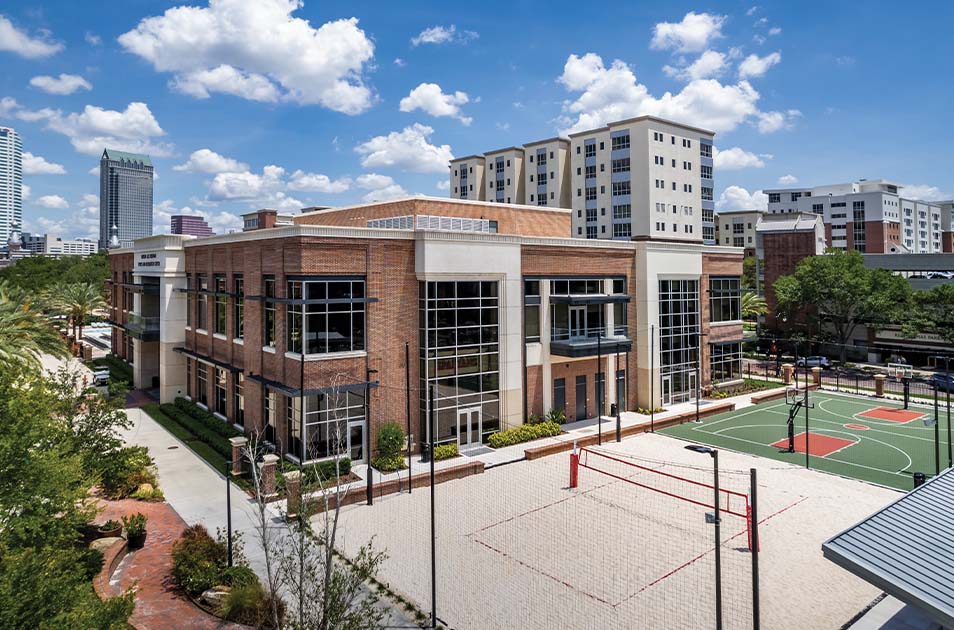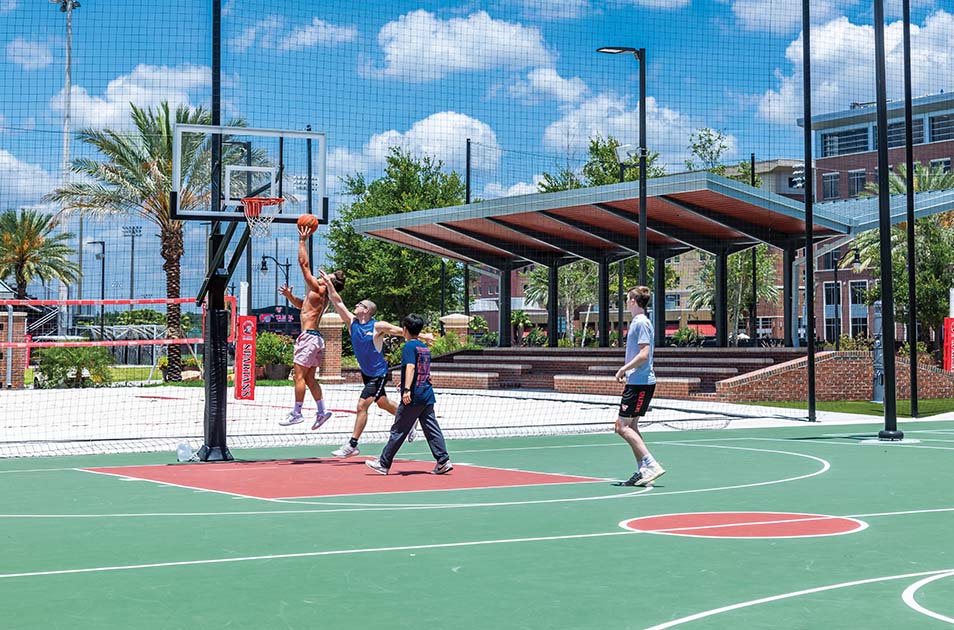 To the west of the center, outdoors, are three new basketball courts and three NCAA competition-sized beach volleyball courts. All six courts are for recreational use, as well as for intramural and club sports, and feature new lighting and sound systems. The volleyball complex, which will host the beach volleyball team's home matches, now has covered bleachers, and the basketball courts have benches for seating.
---