A Heart for Service
Spartan Spotlight: Eunice Penix M.Ed. '80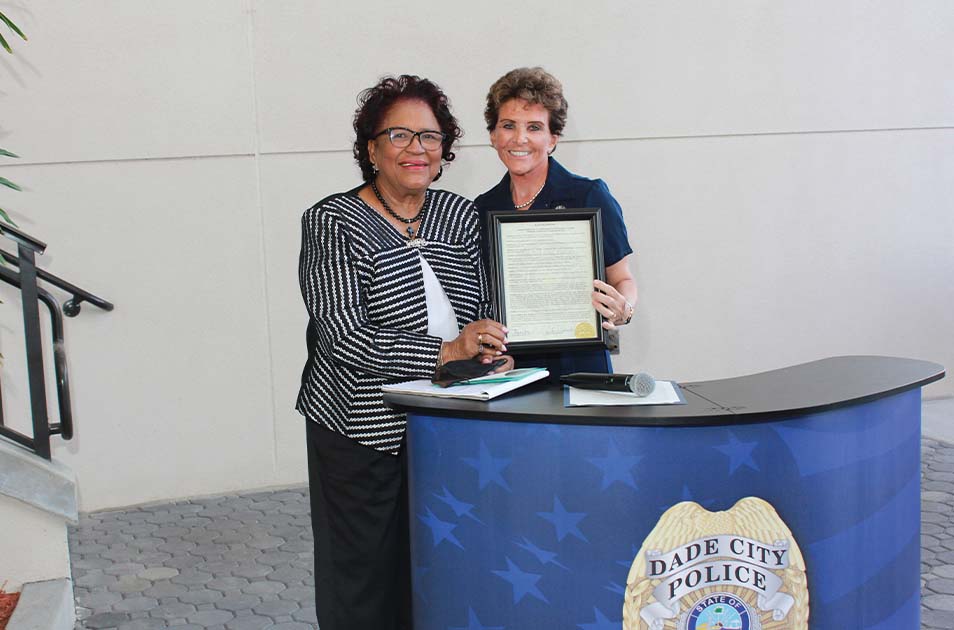 Eunice Penix M.Ed. '80 was honored by the mayor of Dade City, FL, for serving as a city commissioner there for 27 years.
By Catherine O'Neill Grace
Photograph: Courtesy of the City of Dade City, FL
Serving as a city commissioner (1993-2020) and mayor pro tem (2009-2020) in Dade City, FL, Eunice Penix M.Ed. '80 found that to be effective in public service, you must have heart.
"You have to have a willingness to serve the community, to touch the lives of many people in a positive way, to help them bring about peace and goodwill every day," she says, recounting her 27 years in office. "To do a good job, you have to love all people — not one race, but all people."
During Penix's retirement ceremony, the mayor of Dade City thanked her for her "dedication to improve Dade City for its residents and future generations to enjoy a prosperous, sustainable community."
Penix is someone who has always known the city well. "I was born right here in Dade City, and so was my mother," Penix says. "My mom used to tell me, 'You, Miss — you have the personality to do things in the community.' After she passed away, I did it. She was the one who motivated me."
At first, Penix filled a vacancy for a city commissioner. "I was appointed from the floor. I was in the audience, believe it or not," she says. "So I went up there and took the oath." She finished the remainder of that four-year term, and then won reelection six more times before retiring.
A teacher for 39 years, Penix graduated from high school in 1958 and Bethune-Cookman College (now University) in 1962 with a bachelor's degree in elementary education. She went on to teach kindergarten up to fifth grade. "I loved young kids," she says. In 1980, Penix earned a Master of Education degree in administration at UT, learning how to make big-picture decisions and lead.
These skills came in handy as a city commissioner. The Penix era was a time of growth for Dade City, a community of some 7,600 in Pasco County. She supported commercial and residential development, including the building of a Hampton Inn and a Publix supermarket, and saw the extensive paving of streets and sidewalks. She is especially proud that the city acquired and restored the Atlantic Coast Line Depot, a 1912 railway building that is now the Dade City Heritage Museum.
In retirement, Penix stays busy. She's a notary, and "I have lunch at the senior center, socializing," she says. "I go to the shopping center to look at the people go by. Wednesdays and Sundays, I go to church. I don't have time to watch TV."
She also keeps a close eye on the Dade City commissioners who followed her. "Before I left, there were plans to move the wastewater treatment plant out of the community," Penix says. "It's in the Black community, and it shouldn't ever have been built in a residential area. I just hope that they will hurry that up."
---