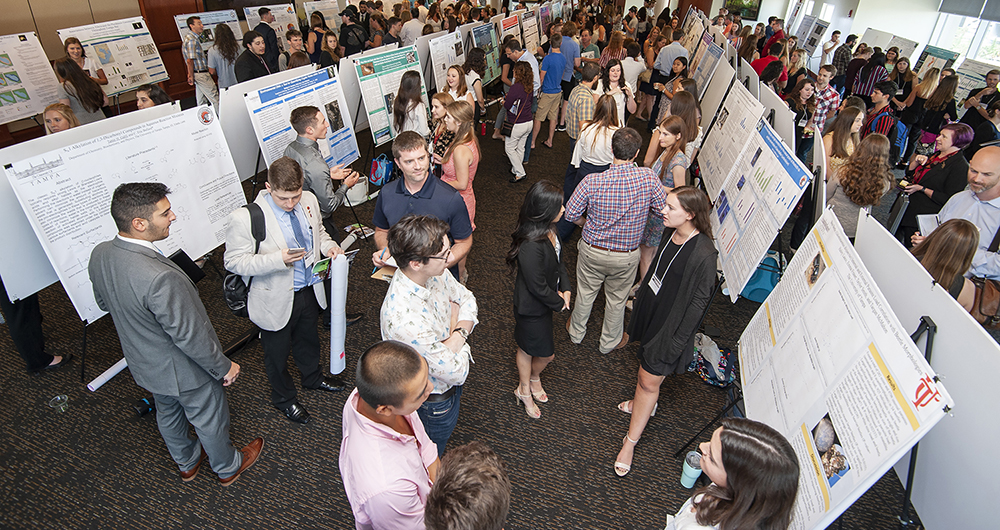 The Virtual Summer Undergraduate Research Fellowship (SURF) Symposium at The University of Tampa is an online showcase of students' summer research accomplishments. This event will be held on Friday, Sept. 4, 2020, from 3 to 5 p.m. Clicking each title below will open a Zoom meeting where the student will give a presentation on his or her research. In the Zoom meeting, you are welcome to interact with students and ask questions. The entire UT community, as well as friends and family members, are welcome to join and participate.
Please direct questions to Eric Freundt, director of the Office of Undergraduate Research and Inquiry, at efreundt@ut.edu.
Student Presentations
All students will have four presentation times: 3 p.m., 3:30 p.m., 4 p.m. and 4:30 p.m.
Searching the Gaia Catalog for Moving Group Stars
Brolan Jennings, Physics
Mentor: Simon Schuler
The Impacts of Acculturation on Machismo and Marianismo at the Intersection of Hispanic Health
Brianna Rubenstein, Allied Health
Mentor: Alyssia Miller
Quantifying the amount of Staphylococcus aureus and MRSA at Gandy Beach in Tampa Bay, Florida
Hayley Kudzmas, Biology
Mentor: Bridgette Froeschke
Assessing the impact of experiential-based environmental outreach on participant's perspectives of conservation by developing an educational model for varying age groups from both local and international communities.
Lauren Kulick, Marine Science-Biology
Mentor: Emily Rose
Communication Styles in the U.S. Senate
Cheyenne Lee, Political Science
Mentor: Jonathan Lewallen
An International Analysis of the eSports Markets
Dylan Clark, Entrepreneurship
Mentor: Cagdas Agirdas
Learning the inverse scattering transform through the lens of an undergraduate mathematician
Gina Pantano, Physics and Mathematics
Mentor: Morgan McAnally
The role of Vibrio in the microbial loop and water contamination in Tampa Bay.
Margaret Baker, Marine Science-Biology
Mentor: Rebecca Waggett
Gypsy X-linked Recessive Female Sterility Screen
Savannah Muron, Biology
Mentor: Stephen Kucera
Classification of Human Adenoviruses Using Machine Learning
Breanna Arbanas, Biology
Mentor: Pad Mahadevan
A Longitudinal Macro-Level Comparison between Adult Female and Male Violent Offending Within the Context of Strain Theory
Flavia Mandatori, Criminology and Criminal Justice
Mentor: Alex Toth
Moderation of the Cross-Race Effect
Lauren Sass, Psychology
Mentor: Benjamin Marsh
Self-Efficacy and the Retention of First-Generation College Students
Jessica LaFontaine, Psychology
Mentor: Megan Lopez
Gender and Police Militarization
Christina Pasca, Applied Sociology
Mentor: Ryan Welch
---