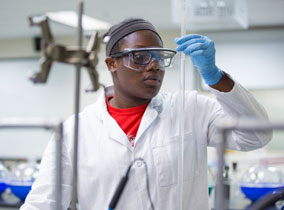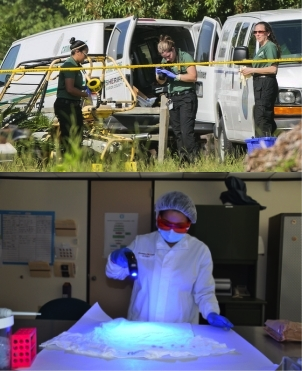 The Bachelor of Science in Forensic Science degree is designed to prepare students for careers as forensic scientists and is accredited by the Forensic Science Educational Programs Accreditation Commission (FEPAC) of the American Academy of Forensic Sciences. Students in the program receive training in the fields of crime scene investigation, forensic chemistry, forensic toxicology, forensic biology, forensic firearms examinations and fire debris analysis. The curriculum is enhanced by internship opportunities with forensic laboratories; our students have held internships with many different agencies, including the Federal Bureau of Investigation, Florida Department of Law Enforcement, Hillsborough County Medical Examiner, Pinellas County Crime Laboratory, Defense Forensic Science Center and National Forensic Science Technology Center. The program also prepares students for graduate programs in forensic science, chemistry, toxicology, biochemistry and health professional schools; alumni from the program have attended medical school and pharmacy school.
All of the faculty in the program were formerly forensic science practitioners, with experience as crime scene investigators or in forensic laboratories. This ensures that our students are taught by professors who have practiced what they are teaching; they have done forensic science and testified to their results in court.
Graduates of the program are well-prepared for employment with local, state and federal crime laboratories as well as law enforcement agencies. Based on polling, 80% of our graduates are employed in forensic science or analytical laboratory science, are in doctoral programs related to their training or are in medical/pharmacy school. Our graduates currently have careers in several forensic science fields for various agencies. Examples include: firearms examiner at the Broward County crime laboratory, forensic chemist at the Florida Department of Law Enforcement, agent for the Air Force Office of Special Investigation, chemist for the United States Drug Testing Laboratories, crime scene investigator at the Osceola County Sheriff's Office and forensic DNA technician for the Marion County Sheriff's Office. Additionally, several graduates are in doctoral programs in top schools in their field.
Mission Statement
The mission of the forensic science program is to prepare the student, through the development of student knowledge and laboratory skills, for post-baccalaureate training and careers in forensic science and related fields, in an environment that emphasizes faculty-student mentoring.
The objectives of the forensic science program are to graduate students who:
Possess knowledge essential to a broad understanding of forensic science and the underlying scientific and legal concepts, with particular knowledge in crime scene investigation, firearms and pattern comparison, genetics, molecular biology, forensic chemistry and forensic toxicology
Develop and demonstrate competence in forensic science methods and instrumentation, data collection and interpretation, through hands-on experiential learning
Be able to make reasoned decisions and ethical choices to obtain, report and communicate their results with integrity
Develop the ability to communicate effectively through both oral and written methods and in both scientific and courtroom environments
Have an attention to detail necessary for thorough and rigorous evidence analysis
Demonstrate the ability to effectively work independently through an independent project, original research and/or an internship experience
---