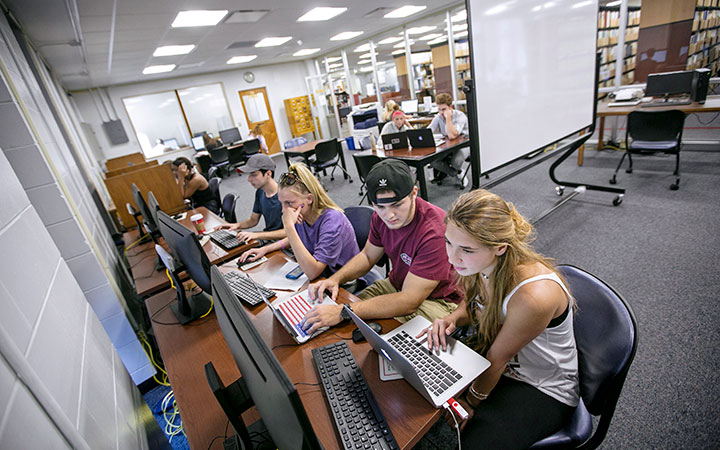 KeepLearning UT for Students
The University of Tampa provides access to technology tools and resources to facilitate the classroom experience, such as technology to aid in lectures and discussions, recorded presentations, shared materials, and class assignments. We are committed to helping students optimize their experience with technology.
Getting Started
A special Incoming Students ITS Checklist has been created for students. Use this checklist to learn how to access MyUTampa, campus Wi-Fi, Office 365, web printing, and more.
SpartanLearn (powered by Canvas) and other tips
SpartanLearn (powered by Canvas) is the University's Learning Management System, replacing Blackboard effective Aug. 14, 2023.
Advanced Digital Literacy Center
Students are encouraged to visit the Advanced Digital Literacy Center (ADLC) to learn more about SpartanLearn (powered by Canvas), Workday, O365 (Word, Excel, PowerPoint), Vidgrid, Zoom, Qualtrics, and much more! The Center boasts many industry expert speakers throughout the semester who speak about emerging technologies such as artificial intelligence, machine learning, optimizing your LinkedIn profile for job searches, and many other topics.
Protect Your Passwords
Make sure to read the acceptable use policy (AUP).
Never share your MyUTampa password with anyone.
Make sure your MyUTampa password is unique from other accounts you may have.
Never approve multi-factor authentication (MFA) requests you did not initiate and never share your one-time passcode.
ITS Service Desk
Launch the Service Desk app in MyUTampa to contact us about any technology issues you might be having or if you are searching for information on your technology resources. Our Service Desk Portal includes:
Easy-to-use form for submitting requests and reporting incidents.
Self-service knowledge base – a searchable directory with articles containing tips, tricks and quick solutions for issues that are most commonly reported to ITS.
Service Catalog – a catalog of services that are provided by ITS, as well as a direct link to request those services.
ITS Service Desk Knowledge Base
Step-by-step instructions are available for many of the commonly used applications at UT, such as SpartanLearn (powered by Canvas), Zoom, and Workday. To access the knowledge base, log into MyUTampa and then click on the "Service Desk" icon. After logging in, use the search function to locate step-by-step instructions.
Helpful Information
If your computer, whether PC or Mac, needs general repair, please contact a local repair shop. These repair shops are not affiliated with the University.
Ethernet cables and CATV coaxial cables for television may be purchased from the campus bookstore or another local vendor. Please contact the Student Service Desk if you need advice on selecting a network card or network patch cable.
If you have any concerns or issues, please submit a new incident to the Service Desk, by clicking on the Service Desk app inside MyUTampa.
NOTE: The University assumes no financial responsibility for damages or loss of personal property of students. Personal property insurance coverage is recommended if you are not covered by your parent's personal property insurance policy.
---
---
Online: ITS Service Desk Portal
Call: (813) 253-6293
Email: servicedesk@ut.edu
Normal Hours of Operation:
Monday - Thursday: 8 am - midnight
Friday: 8 am - 8 pm
Saturday: noon - 5 pm
Sunday: noon - midnight