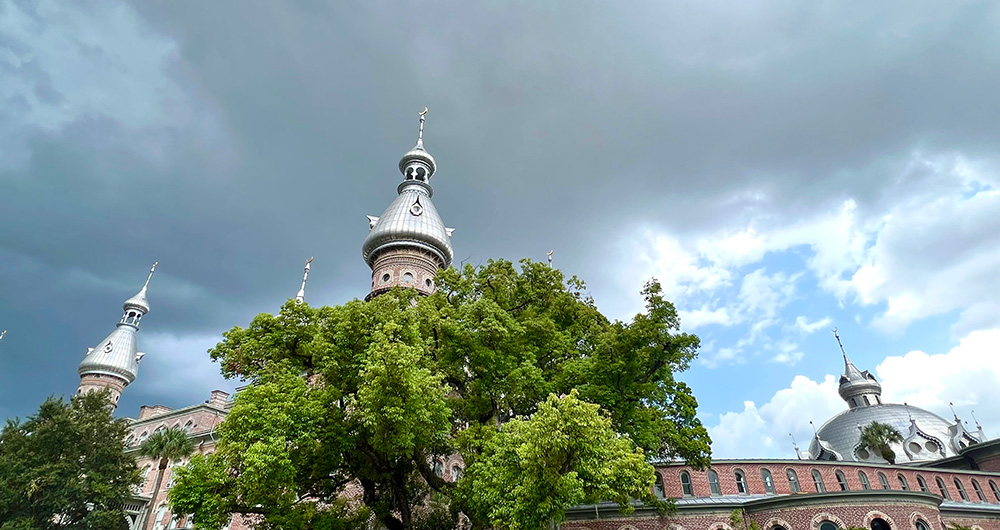 View Thor Guard live:
The University of Tampa uses a campus-wide lightning prediction and warning system to help alert the campus community about impending inclement weather and lightning on or around the UT campus. Tampa, along with the surrounding west central Florida area, experiences more lightning than anywhere else in the United States with more than 100 days of thunderstorms annually. To maximize the safety of the campus community, The University of Tampa utilizes a lightning prediction system called THOR GUARD.
THOR GUARD is a computerized system that can predict the probability of a lightning strike within 8-20 minutes before it will strike. The system is 97 percent accurate within a 2-mile radius. The UT system provides audible and visual warnings in the event that lightning is likely to strike. The rooftop system, which consists of two base units on the roof of the Macdonald-Kelce Library and the R.K. Bailey Arts Studios building, emit an audible horn blast (see examples below) when atmospheric weather conditions are imminently likely to produce dangerous lightning strikes on or around the UT campus. In these cases, the system will emit a 15-second warning blast and the strobe lights on the units will illuminate as long as there is danger of a potential strike. Once the lightning threat passes, three 5-second horn blasts will indicate an "all clear," and the strobe lights will turn off.
The UT community is reminded that individuals must use their own best judgment in inclement weather conditions, and not rely solely on the THOR GUARD system for their personal safety.
LHL (Lightning Hazard Level)
On a scale from 1-9, 1 means a 10 percent chance of lightning and 9 means a 90 percent chance of lightning within the sensor range (10-12 miles)
DI (Dynamic Index)
On a scale from 1-9, 1 means a 10 percent chance of lightning and 9.9 means a 99 percent chance of lightning within close proximity of the sensor location
>3 = Red Alert
<1.5 = All Clear
3> Caution >1.5
AD (Alarm Level)
Approximate minutes to All Clear
FCC (Field Collapse Count)
Total lightning strikes within the sensor range
| | |
| --- | --- |
| THOR GUARD: Red Alert | THOR GUARD: All Clear |
| 15-second horn blast means take cover. | Three, 5-second horn blasts means all clear. |
---