Learn about successful current students and alumni who accelerated their education and launched their careers through the UT2UT program.
Sydney Rhodes '21
Sydney Rhodes '21
M.A. in Social and Emerging Media, expected 2022
B.A. in Journalism, Minor in Sports Management
What were some of your accomplishments as an undergraduate at UT?
I was editor-in-chief of The Minaret as well as a staff writer, captain of the women's cross country and track teams and I was named to the NCAA All-Academic team. I also received the Department of Communications' Outstanding Journalist Award.
Why did you choose to stay at UT for grad school?
While I was taking a lot of classes in broadcast journalism during my undergrad, I found out that I really liked all sorts of media, specifically in digital marketing and content creation. When studying journalism, you dive into many mediums of writing, but it was when I started working with videography, video editing and website creation that I found myself really having fun.
Why did you choose the M.A. in Social and Emerging Media program?
I found a love of creating on the back-end over being in front of the camera. During an internship with a local marketing agency, there were projects that came my way to create a social media posting from scratch, and I gravitated to that artistic aspect.
What has been your most memorable experience of the program so far?
Professor Gregg Perkins' emerging technologies course pushed me to be creative in a field where I wasn't originally passionate. Working in groups, we had to identify a problem in Tampa or in our country. So, our group created vision for a parking app, specifically in the downtown Tampa area. The idea was there would be two sensors – one in a parking space and one in the car, and the sensor, which is connected to your app, would charge you. You wouldn't have to go through the meter machines, and you didn't have to search for the parking.
Dr. Wheeler's course is also already very memorable. So far, he's brought in about a dozen speakers from a range of industries – social media marketers, podcasters, photographers and so many more. Dr. Wheeler has found how to bring the real world to us, to tell us how these individuals got started, and it's not just social media-specific fields. He's extremely knowledgeable, and you can tell he is really trying to listen to our interests and build from that.
What do you hope to do after you finish this program in 2022?
There is so much I want to do! I like to work where I can plunge into multiple platforms like digital marketing, website writing, a little bit of everything. My long-time career goal is to work in athletic communications because you can cover everything like photography, website writing and content-creation all in one.
What's your advice to students considering the M.A. in Social and Emerging Media?
Students should be prepared to get fully immersed into this program. Just get fully get involved with it. Get to know your classmates. The small class sizes and structuring to allow us to go through the entire program together is very helpful for networking. Work closely with your professors by running project ideas with them. And connect with the guest speakers since many times they are local and dialed into the greater Tampa Bay area!
Sophia Belilovskiy '20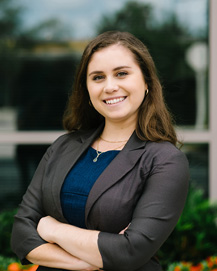 Sophia Belilovskiy '20
MBA, B.S. in Finance
Why did you choose UT?
Along with the many academic qualifications of UT, it has the advantage of its central, downtown location. This gives students the unique ability to be immersed in the surrounding businesses and corporations and to create meaningful connections within the business community.
What's unique about the 4+1 MBA program?
Through the Strategic Management capstone course, students create a business plan for a local company. You get to work side by side with a business owner to make recommendations for improvement, all while learning about marketing, finance and operations. Looking back now, I see the impact this had on my critical thinking skills and development as a business student and working professional.
What was your favorite experience in the program?
My final semester was spent developing every part of a full-fledged business plan for my Strategic Management presentation. Seeing the look of excitement in the eyes of the company's founder and CEO was priceless. Hearing his feedback and enthusiasm to implement our ideas was the perfect end to my 4+1 MBA experience.
What's your advice to other students?
Make sure you have the capacity to commit to the program, and take full advantage of everything it has to offer. Talk to professors, get to know your peers and take every opportunity to go to events and listen to speakers.
Alison Robinson '20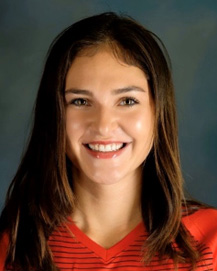 Alison Robinson '20
MBA, B.S. in International Business and Marketing
Why did you choose UT?
I learned about UT during my recruitment to the soccer program, and I was additionally impressed by the opportunity to meet students from around the globe. I wasn't initially aware of the 4+1 MBA program, but my teammate connected me with graduate coordinator Fernando Nolasco, who went over the guidelines, including the need to maintain high grades in all my classes. I worked to gain 4+1 eligibility from that initial conversation.
What stood out to about the 4+1 MBA program?
Not only was the timeline appealing, but I was excited by the diverse student population. UT's graduate students are people from all ages and backgrounds with a singular focus — we are there to learn. Additionally, the professors all bring their real-life experience to the classroom, and they truly care about you and your education.
Who was your favorite professor?
Professor Ali Jenzarli engages you and jokes with you while still being tough with the structure and content of his classes. On my first assignment, I ended up getting a 66%, and I thought to myself, "I'm going to fail." But Professor Jenzarli took the time to counsel me on how to rethink my next project. I ended up getting a much better grade and learned the value of being challenged. As hard as that class was, I learned that my brain and mindset can change, and I'm grateful to him for teaching me that.
What's your advice to other students?
Have an open mind, and know that graduate-level courses are challenging. The more you're able to retain during your undergraduate coursework, the more prepared you'll be, because your professors will assume you know all the basics in every subject. There are many people at UT to help you. Work with your professors, give it your all and, most of the time, you're going to be fine.
Leslie Speranza '19, MBA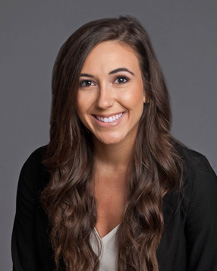 Leslie Speranza '19
MBA, B.S. in International Business and Entrepreneurship
Why did you choose UT?
I learned about the 4+1 MBA program during my initial visit to UT. My advisor explained that 4+1 applicants must maintain a certain level of academic excellence in their undergraduate business classes to qualify. Once accepted, students may enroll directly into their second year of MBA courses and skip the "entry level" ones. Essentially, you can receive an MBA at an accredited business school with highly esteemed professors in less time and potentially less cost!
What's unique about the 4+1 MBA program?
The tight-knit community is integral to the uniqueness of UT. By having smaller class sizes, we're able to engage more deeply in conversations with each other and develop strong relationships with professors. These personal connections become the foundation of our professional network. For example, I received a recommendation from my advisor to interview for an internship position at an eminent aerospace and defense company. When I graduated from UT, that internship turned into my full-time job. As an employee, I recruited two more 4+1 MBA students for internship positions. The network you form with a UT degree is a powerful one.
What was your favorite experience in the program?
During the orientation workshop weekend, students were split into teams and assigned a fictitious company with a fictitious executive leadership role. We were given information about the state of our business and had to create recommendations for how to improve. UT staff advisors observed our behavior as a group and facilitated discussions. This workshop taught us some of the most impactful and useful lessons that I still use today in my job.
What's your advice to other students?
There are numerous benefits in terms of networking and cost, but more importantly, the quality of the education is top tier. The professors are highly qualified and care deeply about your understanding of the material, with a focus on how to apply what you learn into the workplace. Upon graduation, I felt fully prepared entering the workforce and could hold in-depth conversations with all levels of employees on a variety of business topics. The 4+1 MBA program provides students with a competitive edge that will last for years to come.
---