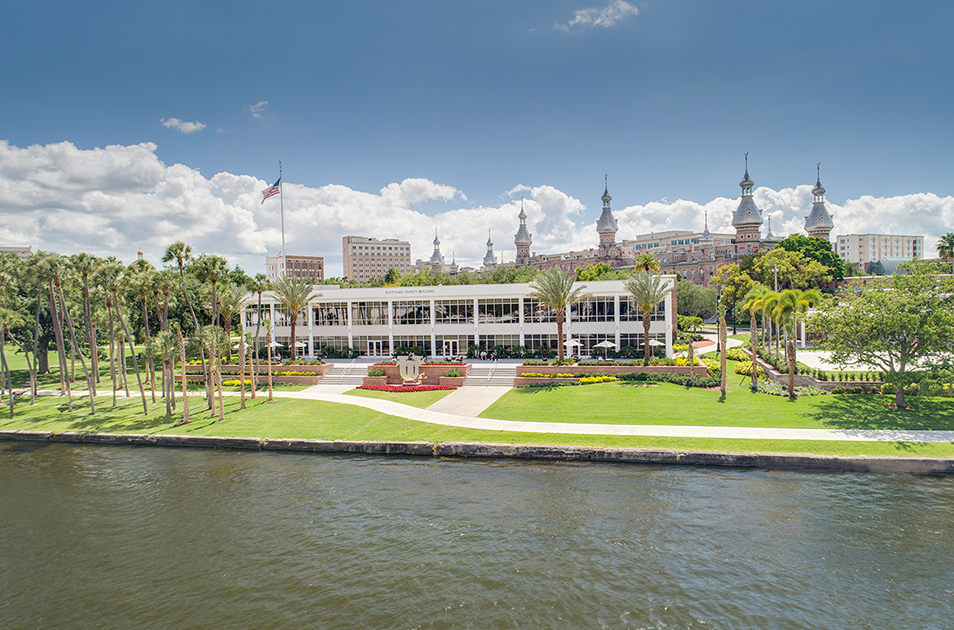 Your Fast Track to Success Starts Here
Join one of UT's many graduate programs even quicker with the Fast Track option. From submitting an application to receiving a decision, you could be admitted in only two weeks.
UT's Graduate Admissions defers certain requirements to allow for a quicker and easier application process. Once admitted, the applicant must submit deferred requirements prior to enrolling as student.
Timeline
Sept. 26: Fast Track invitations sent via email
Oct. 12: Fast Track application deadline
Oct. 26: Fast Track applicants receive a decision (at the latest)
Fast Track Programs
College of Arts and Letters
M.A. in Professional Communication

Application form
Transcripts (unofficial accepted)
Personal statement

Why did you choose this program?
What do you want to bring to the program and take with you when you leave?
What would you like the admissions committee to know about you as it forms its incoming master's class?
College of Natural and Health Sciences
M.S. in Exercise and Nutrition Science

Application form
Transcripts (unofficial accepted)
Personal statement

Why did you choose UT?
Why did you choose this program?
Why is the program a good fit for you?
What do you bring to the program?

Resume
College of Social Sciences, Mathematics and Education
M.Ed. in Curriculum and Instruction

Application form
Transcripts (unofficial accepted)
Two reference forms
Resume
Personal statement addressing the reason for seeking an advanced degree
Must hold a current Florida Professional Teaching Certificate, bachelor's degree in an area of education, statement of eligibility for Florida Professional Teaching Certificate or professional teaching certificate from another state

M.Ed. in Educational Leadership

Application form
Transcripts (unofficial accepted)
Resume
Personal statement addressing why they seek a graduate-level degree
Two letters of recommendation from educational peers or supervisors, one of which is the current or most recent supervisor

M.S. in Instructional Design and Technology

Application form
Transcripts (unofficial accepted)
Sykes College of Business
Master of Business Administration

Application form
Transcripts (unofficial accepted)
GMAT/GRE score (unofficial scores accepted)

Professional MBA

Application form
Transcripts (unofficial accepted)
GMAT/GRE score (unofficial scores accepted)

M.S. in Accounting

Application form
Transcripts (unofficial accepted)
GMAT/GRE score (unofficial scores accepted)

M.S. in Business Analytics

Application form
Transcripts (unofficial accepted)
GMAT/GRE score (unofficial scores accepted)

M.S. in Cybersecurity

Application form
Transcripts (unofficial accepted)

M.S. in Entrepreneurship

Application form
Transcripts (unofficial accepted)
Three-to-five-minute video pitch

Tell us about yourself
Tell us about your business idea (if you have one)
Tell us what you will bring to the program

M.S. in Finance

Application form
Transcripts (unofficial accepted)
GMAT/GRE score (unofficial scores accepted)

M.S. in Information Technology Management

Application form
Transcripts (unofficial accepted)
GMAT/GRE score (unofficial scores accepted)

M.S. in Marketing

Application form
Transcripts (unofficial accepted)
GMAT/GRE score (unofficial scores accepted)
Non-Fast Track Programs
Doctor of Nursing Practice
M.S. in Nursing
Physician Assistant Medicine
Nonprofit Management Certificate
Executive MBA
M.S. in Criminology and Criminal Justice
---