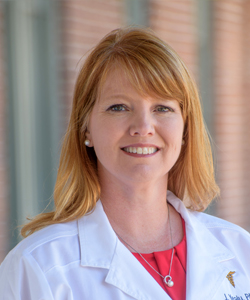 Meet Johnna Yealy
Chair/Associate Professor and Founding Director, Physician Assistant Medicine
Phone: (813) 257-3226
Email: jyealy@ut.edu
Address: 401 W. Kennedy Blvd. Tampa, FL 33606
Mailbox: 11F
Building: GHS Room: 323

---
Education
1994 The University of Tennessee at Martin, B.S.
1996 The University of Tennessee Health Science Center Memphis, BSN
2006 Bethel College MSPAS
2017 Trident University International, Ph.D.
Courses Taught
Patient Management Skills
Dermatology Session-Clinical Medicine
Senior Summative Review
The PA Profession
Pediatrics
Geriatrics
Clinical Skills and Procedures
Medical Ethics and Legal Issues
Career Specialties
Johnna Yealy specializes in emergency medicine. She has also provided clinical services in dermatology, hospital medicine and student health.
Professional and Community Activities
Yealy has been actively involved both in state and national professional organizations. She served as the president of the Tennessee Academy of Physician Assistants twice, as well as the vice president and student representative of the Academy. Nationally, she has served in various roles with the Physician Assistant Education Association.
Yealy has presented at the AAPA, AAMC and PAEA national conferences and authored numerous peer reviewed journal articles. She has authored a book chapter in dermatology. Yealy was a Statewide Model AHEC Community Advisory Board Member and National Health Service Corps Ambassador.
Honors and Awards
Yealy serves in the United States Army Reserves in the 7222nd Medical Support Operations Unit and holds the rank of captain. She has been awarded the following: Global War on Terrorism Ribbon, Army Reserve Component Achievement 1st Award, TN Army National Guard Achievement Ribbon (twice).