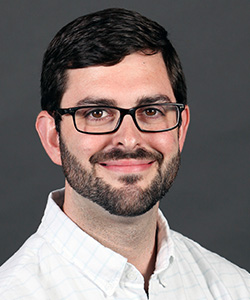 Meet Benjamin Wilson
Assistant Professor, Chemistry
Phone: (813) 257-3898
Email: bwilson2@ut.edu
Address: 401 W. Kennedy Blvd. Tampa, FL 33606
Mailbox: U
Building: TECH Room: 674B

---
Education
2008 Abilene Christian University, B.S.
2015 Louisiana State University, Ph.D.
Courses Taught
General Chemistry
General Chemistry lab
Physical Chemistry
Physical Chemistry lab
Career Specialties
Benjamin Wilson specializes in physical chemistry. His work in graduate school focused on new spectroscopic applications of high harmonic generation. His current research projects are centered on computational chemistry and emphasize hands-on research experience as a component of undergraduate chemistry education.
Professional and Community Activities
Computational methods are utilized to elucidate likely mechanisms of chemical reactions. A current project in the Wilson lab involves studying the ring-opening polymerizations of L-lactide and ε-caprolactone utilizing metal catalysts prepared in an inorganic chemistry lab. By studying how the activation energy and polymerization change as the catalyst is altered, we can better predict the effectiveness of new catalysts for the preparation of biodegradable plastics. This form of collaboration allows Wilson to apply computational expertise to many areas of chemistry, including inorganic, organic and biochemistry.
Wilson is a member of the American Chemical Society and has had multiple undergraduate students present at national meetings.