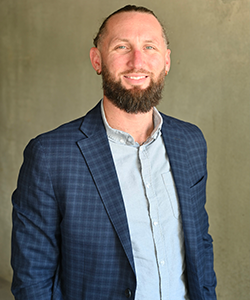 Meet Josh Ray
Visiting Lecturer and New Venture Advisor, Entrepreneurship
Phone: (813) 257-3287
Email: joshuaray@ut.edu
Address: 401 W. Kennedy Blvd. Tampa, FL 33606
Mailbox: 2F
Building: ICB Room: 801

---
Education
2014 University of South Florida, B.A.
2018 University of South Florida, M.A.
2018 University of South Florida, M.S.


Courses Taught
ENT 320 - Intro to Entrepreneurship and Feasibility Assessment
Career Specialties
Josh Ray specializes in business operations, systems building, sales and marketing and program development
Ray founded a Startup Studio Program in the Tampa Uptown District that served a variety of nascent early-stage entrepreneurs helping them build their entrepreneurial mindset and establish a proof-of-concept business model. The program awarded micro-grants to the entrepreneurs who completed the program. He served 25 entrepreneurs who launched new businesses.
Ray's research interests include how entrepreneurship can be a pathway out of poverty, developing the entreprenurial mindset and how that leads to innovation, and entreprenurial ecosystem building and how that creates accesses and opportunities for nascent entrepreneurs. Additional work includes working on the commercialization of patented technologies and new product development for eCommerce brands.
Professional and Community Activities
Ray is passionate about entrepreneurship education and startup innovation. He is an active committee member for 1 Million Cups, which promotes early-stage entrepreneurs and their startups by offering a place for entrepreneurs to present their ideas or early-stage startups to their community to receive feedback and support. Ray is a member of TiE Tampa Bay, St. Pete Young Professionals, and the Collegiate Entrepreneurs Organization (CEO). He also serves on the board for Connect-it 360 - Next Gen Tech, an entrepreneurial training program for high schoolers.
Honors and Awards
Nominated for TBBJ 40 under 40 in 2021
National Science Foundation USF ICORPs Fellow
Startup Studio Program award as one of Tampa Bay's Blazer Award winners 2021