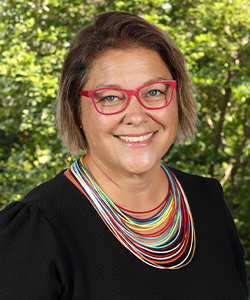 Meet Michelle Osovitz
Assistant Professor, Biology
Phone: (813) 257-3753
Email: mosovitz@ut.edu
Address: 401 W. Kennedy Blvd. Tampa, FL 33606
Mailbox: U
Building: SC Room: 243

---
Education
1999 University of California San Diego, B.S.
2006 University of California Santa Barbara, Ph.D.
2009 Stanford University Postdoctoral Fellow
Courses Taught
Developmental Biology Lecture and Lab
General Genetics Lecture and Lab
General Biology 1, Cellular Processes Lecture and Lab
Career Specialties
Michelle Osovitz' research focuses on biochemical and genetic aspects of development. Michelle works with undergraduate researchers to investigate proteins that regulate the cell cycle during egg activation and early embryonic development. Her research interests stem from the desire to understand how cells make decisions to change and how those decisions are affected by internal and external environmental cues. Projects in the lab predominantly use sea urchin eggs and embryos. These unique marine invertebrates are found throughout the Tampa Bay region and are excellent developmental models used in this laboratory for single cell microinjection, in vivo imaging, proteomics, and quantitative gene and protein expression analysis.
Professional and Community Activities
Osovitz includes a diverse group of undergraduates in her research and welcomes interdisciplinary collaborations. She is involved in projects with faculty at St. Petersburg College, researchers at Mote Marine Laboratories and the Tampa Bay Estuary Program. She is a member of the American Society of Cell Biology (ASCB), the Society for Developmental Biology (SDB) and the American Association for the Advancement of Science (AAAS).