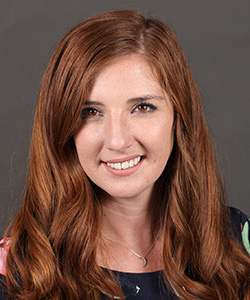 Meet Sarah Orban
Assistant Professor, Psychology
Phone: (813) 257-3081
Email: sorban@ut.edu
Address: 401 W. Kennedy Blvd. Tampa, FL 33606
Mailbox: Q
Building: SC Room: 253

---
Education
2010 University of Pittsburgh, B.Phil
2013 University of Central Florida, M.S.
2017 University of Central Florida, Ph.D.
Courses Taught
Abnormal Psychology
Development I: Child Psychology
Career Specialties
Sarah Orban specializes in child clinical psychology with a specific focus on identifying executive function deficits as mechanisms of academic impairments in children with ADHD. She is also interested in understanding the relationship between movement and executive function in children with ADHD.
Professional and Community Activities
Orban's current program of research addresses three broad areas within the field of ADHD-related executive function impairment: 1) assessing executive function deficits, particularly working memory deficits, in children with ADHD, 2) determining the relation between executive function deficits and ADHD symptoms and ADHD-related academic outcomes and 3) informing translational research for intervention and assessment strategies. She recently published a study finding that increased motor activity was associated with better comprehension of video instructed learning material in children with and without ADHD. She has also spearheaded and co-authored several published journal articles identifying central executive deficits of working memory as mechanisms of academic functioning in children with ADHD.
Honors and Awards
Behavioral Medicine and Clinical Psychology Post-doctoral Fellowship, Cincinnati Children's Hospital Medical Center, Cincinnati OH, 2017-2018
Student Government Association Conference Travel Fellowship, University of Central Florida, Orlando, FL, 2011-2016