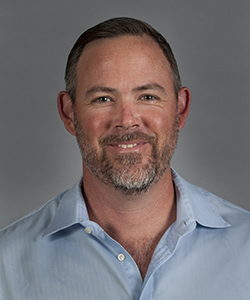 Meet Mark McRae
Associate Professor, Biology
Phone: (813) 257-3351
Email: mmcrae@ut.edu
Address: 401 W. Kennedy Blvd. Tampa, FL 33606
Mailbox: 3F
Building: SC Room: 213

---
Education
1996 Oregon State University, B.S.
2001 Louisiana State University, M.Sc.
2007 Louisiana State University, Ph.D.     
Courses Taught
Biological Unity
Career Specialties
Associate Professor Mark McRae specializes in freshwater ecology.
Professional and Community Activities
The focus of McRae's research is the population and community ecology of stream-dwelling fishes and crustaceans in the Hawaiian Islands. His collaborations with Hawaii's Division of Aquatic Resources, the Bishop Museum and the University of Hawaii at Hilo have provided biological information vital to the conservation of Hawaii's endemic freshwater species.
His recent research projects have included a study of the trophic ecology of Kuhlia xenura in terminal reaches of Hawaiian streams. The study represents a cooperative research effort between The University of Tampa and the state of Hawaii's Division of Aquatic Resources and will allow for conservation policies designed to preserve the integrity of ecosystem-level processes. Other research has included studies of the seaward migration, habitat use and reproductive success of different species of Hawaiian fish.