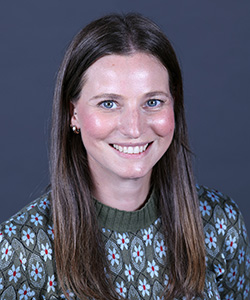 ---
Education
2012 University of Toronto, B.A.
2014 London School of Economics and Political Science, M.Sc.
2021 University of Colorado, Ph.D.
Courses Taught
Feminist Philosophy
Modern Philosophy: Descartes to Kant
Special Topics: Social Justice and the Ethics of Belief
Career Specialties
Alexandra Lloyd's research focuses on the intersection of ethics and epistemology. She takes theories and ideas from epistemology and deploy them to help solve problems in a variety of ethical areas, including but not limited to feminist philosophy.
Professional and Community Activities
Lloyd's research has recently been focused on a set of problems within epistemology: She is working on a paper about the moral role that the attitude of outright belief plays in our cognitive lives. Lloyd argues that belief serves an important moral function separate from the role that credences, or degrees of belief, play in our cognitive economy. This has important implications across a wide variety of ethical domains, including but not limited to racial profiling, sexual consent and in the context of the #MeToo movement.
Lloyd is also interested in an overarching question concerning the role that distinctly epistemic norms play in our lives. Are they always completely separate from, for example, moral or practical norms? Or is there a mechanism via which moral or practical features of a situation can encroach on, or make a difference to, what one can justifiably believe?
Lloyd has presented her research at a number of conferences over this past year, including the Pacific division meeting of the American Philosophical Association and the Great Lakes Philosophy Conference. She will also present some of her work to the undergraduate Philosophy Club here at The University of Tampa.