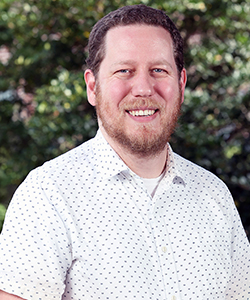 Jeremy Lakoff
---
Phone
Email
Address
401 W. Kennedy Blvd.
Tampa, FL 33606
Building Location
Meet Jeremy Lakoff
Professor of Instruction I, Academic Writing
Education: 2011 Concordia University, B.A.
2012 University of Toronto, M.A.
2019 The University at Buffalo - SUNY, Ph.D.

View CV (PDF)
Courses Taught: Writing and Inquiry
Writing and Research
Career Specialties: Jeremy Lakoff's research explores the early decades of broadcasting and its intersections with modern literature, especially in representations of noise, studio spaces and professional culture. When teaching, he draws on this background to get students writing about new media, music, podcasts and auditory experience.
Professional and Community Activities: Lakoff is working on a book project, Self-Portraits of the Broadcasting House, about the professional and literary culture of the British Broadcasting Corporation between 1922 and 1955 using a range of archival materials held by the BBC (including memos, minutes, scripts and personnel files). He is looking at how the concept of the studio, as a collaborative site of creative work, emerged through debates and negotiations that happened both in back hallways and on the air.

Lakoff has previously published essays in The Conradian, Virginia Woolf Miscellany, and Science, Technology, and Irish Modernism (Syracuse, 2019) and is currently writing a book chapter about the aesthetic function of the radio producer. In recent years he has given presentations at conferences like the Modernist Studies Association, the Modern Language Association and regional meetings of the American Conference for Irish Studies.
Honors and Awards: University at Buffalo Graduate Student Excellence in Teaching Award, 2018
Robert and Carol Morris Dissertation Completion Fellowship, 2017-2018
Opler-Doubrava Fellowship, 2016-2017
University at Buffalo Presidential Fellowship, 2012-2016
Social Sciences and Humanities Research Council of Canada Doctoral Fellowship, 2012-2016