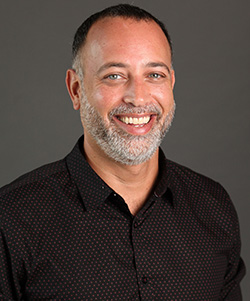 Meet Adolfo Lagomasino
Assistant Teaching Professor, Communication
Phone: (813) 257-3688
Email: alagomasino@ut.edu
Address: 401 W. Kennedy Blvd. Tampa, FL 33606
Building: TECH Room: 460D

---
Education
2009 Florida International University, B.A.
2013 California State University Northridge, M.A.
2020 University of South Florida, Ph.D.
Courses Taught
Intercultural Communication
Mass Media and Society
Career Specialties
Adolfo Lagomasino's specialties are in cultural studies, ethnography of place, public/cultural memory and performance studies. Recently, his interests include activism and advocacy, and the various approaches and praxis of the Situationist International.
Professional and Community Activities
Lagomasino researches the co-constitutive relationship between identity, culture and place. His research on the Dérive as mobile ethnographic method was recently published in Liminalities, a performance studies journal. His dissertation and continuing research in exile and transnational identity is grounded in the Tampa-Cuban connection and community.
Lagomasino has presented at national and regional conferences. His competitively selected papers and presentations were recognized in the Ethnography, Performance Studies, and Rhetoric and Public Address divisions of SSCA.