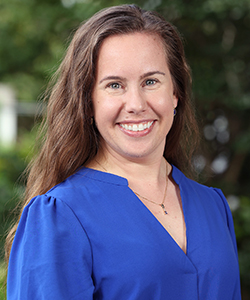 Meet Juliana Kralik
Instructor, Accounting
Phone: (813) 257-4076
Email: jkralik@ut.edu
Address: 401 W. Kennedy Blvd. Tampa, FL 33606
Mailbox: O
Building: ICB Room: 229

---
Education
2011 University of South Florida, B.A. in Criminology
2011 University of South Florida, B.S. in Accounting
2016 University of South Florida, M.Acc.
Courses Taught
Financial Accounting Information
Managerial Accounting
Career Specialties
Juliana Kralik's research and teaching interests lie at the intersection of accounting and technology. Specifically, she uses behavioral methodologies to understand how accountants and higher education in accounting are influenced by the increasingly digital work environment.
Professional and Community Activities
Kralik's research examines how automation, artificial intelligence and distributed work are changing the accounting profession. Her work focuses on accountants' expertise and motivation for work using behavioral methodologies. Kralik extends her understanding of accountants' digital work environment to explore its impact on higher education in accounting. Specifically, she is interested in developing pedagogical tools that increase students' interest in the accounting profession and improve students' acquisition of career-ready knowledge and skills.
Kralik is a Certified Public Accountant (CPA) active in Florida and maintains affiliations with the American Institute of Certified Public Accountants, EY Alumni Network, American Accounting Association and Junior Accounting Scholars Organization.
Honors and Awards
Kralik received the 2021 Bea Sanders/AICPA Innovation in Teaching Award, the 2021 Jim Bulloch Award for Innovation in Managerial Accounting, and the Institute of Management Accountants (IMA) sponsored Outstanding Education Case Award during the AIS/SET Midyear Meeting 2021 for her work with Jennifer Cainas developing a gamified tool for the managerial accounting course.
Kralik was an invited participant to the J. Michael Cook Doctoral Consortium in 2021, sponsored by the AAA and the Deloitte Foundation.