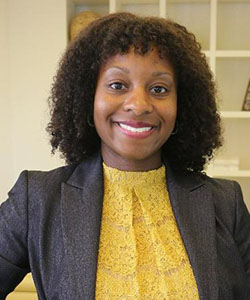 Meet Jobia Keys
Assistant Teaching Professor, First-Year Studies
Phone: (813) 257-4022
Email: jkeys@ut.edu
Address: 401 W. Kennedy Blvd. Tampa, FL 33606
Mailbox: 147F
Building: SFB Room: 254

---
Education
2005 University of Miami, B.S.
2007 University of Central Florida, M.A.
2014 Georgia State University, G.C.
2016 Georgia State University, Ph.D.
Courses Taught
First-Year Seminar I
First-Year Seminar II
Intercultural Communication
Career Specialties
Jobia Keys specializes in communication and college success, with a specific focus on helping first-year students engage diverse people and ideas with an open curiosity. She is passionate about producing research and writing that promotes diversity and inclusion, and helping students develop the necessary skills to have a successful college experience and post-college career.
Professional and Community Activities
Keys' research areas include intercultural communication, children and media, media literacy, gender, race and class representations in media, health communication and diversity, equity and inclusion.
REFEREED PUBLICATIONS
Keys, J. (2021). How Nickelodeon used entertainment-education during the Covid-19 pandemic. In Changing Times: Communication in the Age of the Covid-19 Pandemic (pp. 17-34). Lanham, MD: Lexington Books.
Keys, J. (2020). Stirring racial conflict with "the others": a fantasy theme analysis of the alt-right. In The Role of Conflict on Society and the Individual (pp. 25-50). Lanham, MD: Lexington Books.
Keys, J. (2016). Doc McStuffins and Dora the Explorer: Representations of Gender, Race and Class in U.S. Animation. Journal of Children and Media, 1-14.
Tannebaum, M., Wilkin, H., & Keys, J. (2014). Education in the wake of healthcare reform: Increasing primary care usage by individuals currently reliant upon emergency departments for care. Health Education Journal, 73(2), 209. doi:10.1177/0017896912471043
"How African-American pre-school children interpret health messages in Doc McStuffins" Journal of Children and Media (Revised and Resubmitted)
OTHER PUBLICATIONS
Keys, J. (2020, November 20). Living in a multigenerational home has made me a better parent. Parents Magazine.
Keys, J. (2020, August 15). 5 Steps to Help Your Kids Master E-learning in Tampa Bay. Tampa Bay Moms. Retrieved from: https://tampabaymoms.com/education/help-your-kids-master-e-learning/
Keys, J. (2015). Grand Angel. Sarasota, Florida: The Peppertree Press.
Honors and Awards
2021 Omiron Delta Kappa, National Leadership Honor Society
2019 NAACP "Go Forth and Prosper Award"
2016 Magna Cum Laude, Georgia State University
2016 International Communication Association Travel Grant