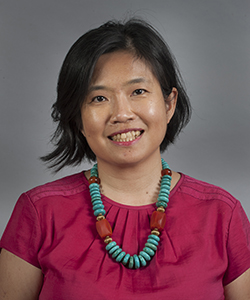 Meet Hwee-Joo Kam
Associate Professor, Cybersecurity
Phone: (813) 257-3165
Email: hkam@ut.edu
Address: 401 W. Kennedy Blvd. Tampa, FL 33606
Mailbox: O
Building: TECH Room: 553C

---
Education
1999 University of Nebraska, B.S.
2001 University of Nebraska-Lincoln, M.A.
2012 Dakota State University, D.Sc.
Courses Taught
Introduction to Principle of Information Security
Introduction to Information Security Awareness
Secure Coding
Command Line Security
Penetration Testing
Visual Analysis and Social Network Analysis
Database Security
Secure Communication Strategies
Competitive Intelligence and Theories (Cyberterrorism, US-Sino Cyber Competition)
Career Specialties
Hwee-Joo Kam is very interested in teaching secure coding, database security and management and secure command lines. Her areas of research include organizational security, cultural effects on security and motivational issues related to security practices.
Professional and Community Activities
Kam has published in various journals and refereed conference proceedings. These include
Computers & Education
(impact factor: 2.881),
Journal of Information Privacy & Security, Journal of Information Systems Education
, and 2013 International Conference of Information Systems (ICIS). In summer 2015, Kam earned a scholarship to participate in a one-week workshop of Women Institute in Summer Enrichment (WISE) in the cybersecurity discipline (Summer 2015) at the University of California, Berkeley. In the same year, Kam was awarded another scholarship to attend a three-day for SEED Cybersecurity Workshop at Syracuse University.
Honors and Awards
A full paper presented at the European Conference of Information Systems (ECIS) was nominated for the best paper award: Kam, H. J., & Katerattanakul, P. (2015). A Tale of Two Cities: Policy Compliance of the Banks in the United States and South Korea. 2015 European Conference on Information Systems (ECIS), Munster, Germany.

Earned professional certification on mobile security
Global Information Assurance Certification (GIAC) - Mobile Device Security Analyst (GMOB)
Obtained: 2014-02-06
Analyst# 84 (see http://www.giac.org/certified-professional/hwee-joo-kam/138327)