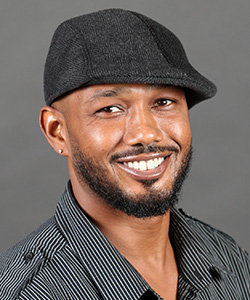 Meet Devon Johnson
Assistant Teaching Professor, Philosophy
Phone: (813) 257-3855
Email: djohnson@ut.edu
Address: 401 W. Kennedy Blvd. Tampa, FL 33606
Mailbox: 120F
Building: FCA Room: 208

---
Education
2003 Florida State University, B.A.
2005 Florida State University, M.A
2014 Temple University, Ph.D.
Courses Taught
Introduction to Philosophy
Philosophy of Race
Career Specialties
Devon Johnson's areas of academic interest include Africana philosophy, black existentialism and philosophy of hip-hop.
Professional and Community Activities
Johnson's focus is on questions of Africana philosophy as they relate to the existential phenomena of Nihilism and anti-black racism. His specific research interests and areas of publication are in studies of black youth, hip-hop and maturity.
Recent publications include:
"From the Inside: Time Spent Philosophizing in Prison, Leiden, Netherlands: Brill Publishing, (Spring 2021) –under review.
"The Revolutionary Language of Black Existentialism," in Danielle Davis (ed.), Black Existentialism. London: Rowan & Littlefield International, (March 2019)
"In Pursuit of Existential Dopeness: Kendrick Lamar's Damn," in The Philosophers' Magazine. UK: (Spring 2019)
"Beyond Tradition: A Short Philosophical Rumination On Africana Philosophy and Nihilism in 21st Century America," American Philosophical Association: Newsletter on Philosophy and the Black Experience 16, no. 2. (Spring 2017): 22–23