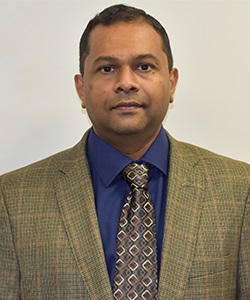 Meet Vivekanand Jayakumar
Associate Professor, Economics
Phone: (813) 258-7248
Email: vjayakumar@ut.edu
Address: 401 W. Kennedy Blvd. Tampa, FL 33606
Mailbox: O
Building: JS Room: 317A

---
Education
1998 Purdue University, B.S. (Honors)
2000 Purdue University, M.S.
2004 Purdue University, Ph.D.
Courses Taught
Intermediate Macroeconomic Analysis
Seminar in Economics
Economics of Emerging Markets
Monetary Economics
Career Specialties
Vivekanand Jayakumar specializes in macroeconomics (open-economy), international finance, monetary economics, development economics and
economic growth.
Professional and Community Activities
Jayakumar conducts research focused on open-economy macroeconomics/international finance (global imbalances, international monetary arrangements, exchange rates, capital controls). He is also interested in issues related to economic growth and development in emerging markets.
His research has been published in the International Review of Finance, Macroeconomics & Finance in Emerging Market Economies, Frontiers of Economics in China, Journal of Financial and Economic Practice, Journal of Economic Education, Tampa Bay Economy and elsewhere. Prior to joining The University of Tampa, Jayakumar was a visiting faculty member at Colgate University in New York.