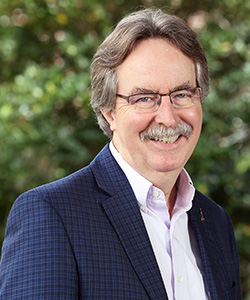 Meet Paul Greenwood
Dean, College of Natural and Health Sciences; Professor of Biology
Phone: (813) 257-3095
Email: pgreenwood@ut.edu
Address: 401 W. Kennedy Blvd. Tampa, FL 33606
Mailbox: V
Building: PH Room: 201

---
Education
1980 Knox College, B.A.
1983 Florida State University, M.S.
1987 Florida State University, Ph.D.
View CV
Career Specialties
Paul Greenwood's research is focused on the development, discharge physiology and biochemistry of nematocysts, the stinging structures common to jellyfish, sea anemones, corals and related organisms. Greenwood also has pedagogical interests and experience in active learning and experiential education including scientific teaching, study abroad and undergraduate research.
Professional and Community Activities
Greenwood is a member of the American Society for Cell Biology and the Association for the Sciences of Limnology and Oceanography. His research has been funded by the National Science Foundation and the National Institutes of Health. Greenwood has published with his students in a variety of scientific journals, most recently in
Toxicon and Mutation Research
. He has co-authored numerous presentations with students at regional, national and international meetings.
Greenwood has conducted research at the Friday Harbor Laboratory of the University of Washington, the Integrated Microscopy Facility of the University of Wisconsin and the Darling Marine Center of the University of Maine. He has taught abroad in London and in Anguilla, British West Indies.
Greenwood regularly works with teachers in elementary and middle school classes, including assisting on field trips to coastal locations.
Honors and Awards
Phi Beta Kappa- Knox College
Phi Kappa Phi- Florida State University
Distinguished Teaching Award- Colby College
Education Fellow in the Sciences (2015-16)- National Academies