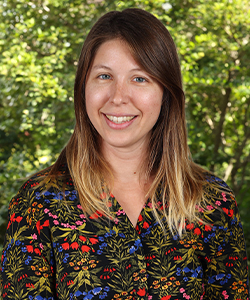 ---
Education
2013 University of Tampa, B.A.
2014 Alvin Ailey American Dance Theatre's The Ailey School, Independent Study, Professional Division
2017 Florida State University, MFA
Courses Taught
Dance History
Dance in World Cultures
Intermediate Modern
Intermediate/Advanced Ballet
Improvisation
Composition and Choreography
Dance Anatomy, Kinesiology, and Injury Prevention
Applied Dance Fundamentals I & III
Teaching Methods for Community and Diverse Populations
Career Specialties
Amanda Gabaldon is an interdisciplinary dance artist, educator, choreographer and arts journalist. Her specializations include: choreography for alternative/site-specific spaces, brain-compatible pedagogy and community dance teaching, dance in popular culture research, and dance criticism and writing.
Professional and Community Activities
Gabaldon is the artistic director of Poetica, a company that blends poetry, dance and community together. She teaches an outdoor, community dance class series with Tampa Parks and Recreation, serves as a teaching artist with Arts4All Florida, and was a faculty member for CORE Dance's Teens Activate program in Atlanta, GA. Gabaldon's collaborative & immersive choreographies have been showcased at the Tampa Museum of Art, the Scarfone-Hartley Gallery, Moving Current's NewGrounds Festival, Tallahassee's 621 Gallery, FEMMEfest Atlanta, the Decatur Arts Festival, and the Atlanta Fringe Festival.
Gabaldon studied under master teacher Anne Green Gilbert and builds on her brain-compatible dance curriculum to emphasize creativity and strengthen mind-body connections in the studio. Gabaldon has published her pedagogical and choreographic processes in "The Dancer-Citizen Journal," "The Autoethnographer Literary & Arts Magazine," and the "Dance Education in Practice Journal." In 2023, she was selected as a contributing author for the textbook, "Dance in US Popular Culture." Gabaldon was a feature writer for the Tallahassee Council on Culture and Arts and the "Tallahassee Democrat" for seven years. Her arts journalism pieces and features appear in Creative Pinellas' "Arts Coast Journal," "ArtsATL," and "DIYdancer Magazine."
Honors and Awards
Gabaldon is a member of the National Dance Education Organization (NDEO) and has been selected to present embodied research at NDEO and the Popular Culture Association/American Culture Association's annual conferences. She was a co-recipient of a UT RISE Grant to continue a collaborative photography/dance project, "Blueprint/Redbloom," with Prof. Jaime Aelavanthara. The project was selected for a Skyway 2020 artist grant and featured in the Tampa Museum of Art's Skyway 2021 Exhibition.
Gabaldon was the recipient of a Gobioff Foundation micro-grant to develop an annual National Dance Day performance for local choreographers and has been commissioned for the Gasparilla Festival of the Arts and Moving Current modern dance's summer season. She was featured in "Dance Magazine" for her outdoor, socially distant dance series in summer 2020. In 2022, Gabaldon received the Outstanding Part-Time Faculty in the College of Arts & Letters Award.