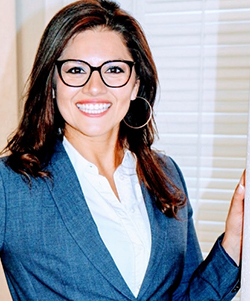 Meet Yvonne Franco
Assistant Professor, Education
Phone: (813) 257-3664
Email: yfranco@ut.edu
Address: 401 W. Kennedy Blvd. Tampa, FL 33606
Mailbox: S
Building: PH Room: 438

---
Education
2003 The University of Tampa, B.S.
2007 University of South Florida, M.A.
2015 University of South Florida, Ph.D.
Courses Taught
Research in Education
Teaching Science in the Elementary School
Teaching Reading through Diagnostic Assessment and Instruction (ESOL-infused course)
Instructional Laboratory II
Teaching Math in the Elementary School (Spring 2022)
Curriculum Theory (Summer 2021)
Career Specialties
Yvonne Franco's areas of academic interest and specialization include inquiry-based pedagogical practice in STEM and literacy teacher preparation. They also consist of teacher candidates and novice teachers' development of inquiry skills and dispositions, namely dispositions of reflection, emotional intelligence and critical learning.
Professional and Community Activities
Franco's research agenda is focused on the cultivation of an inquiry stance among teacher candidates (TCs) and the novice teacher, to approach problems of practice in the classroom and widen the angle of equitable, high-quality, responsive instruction for students across disciplines. She examines ways inquiry skills and dispositions surface among TCs and novice teachers, namely dispositions of reflection, emotional intelligence and critical learning.
Franco regularly presents at the American Educational Research Association (AERA) and the Association of Science Teacher Educators (ASTE) conferences, among others. She has published numerous articles alongside novice teachers and doctoral students, supporting their use of inquiry skills to inform the field across disciplines, and ensuring their voice is heard from within the authentic classroom setting. She continues to extend her research by developing an expansive approach to STEM and literacy teacher preparation through clinically-based experiences grounded in inquiry-based pedagogy. Franco currently serves as president elect for the Florida Association of Teacher Educators (FATE), and in collaboration with UT's Department of Education, will be hosting the 2021 Annual conference, Re-envisioning Teacher Education, at UT in December 2021.
Since 2011, Franco has acted on a deep belief in the way strong connections with community stakeholders support the professional development of teachers and teacher candidates. In partnership with elementary schools and community organizations throughout Tampa Bay, she has nurtured, supervised and proudly graduated hundreds of teachers during her previous employment at USF's College of Education. These experiences prepare her to support the development of future UT educators, through strong University-community partnerships that include Hillsborough County Schools, Nature's Classroom, MOSI, Tampa Women's Leadership and several professional organizations.
Honors and Awards
2020 Excellence in Undergraduate Education Award, University of South Florida
2019 Excellence in Writing, Readers' Favorite International Book Award
2003 Outstanding Educator Award, University of Tampa