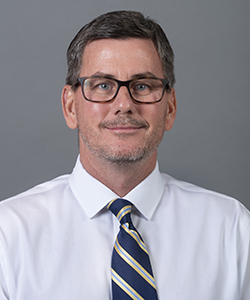 Meet Michael Flynn
Associate Teaching Professor, Sport Management
Phone: (813) 257-3497
Email: mflynn@ut.edu
Address: 401 W. Kennedy Blvd. Tampa, FL 33606
Mailbox: 15F
Building: FIT Room: 232

---
Education
2001 Florida Southern College, B.S
2008 Florida Southern College, M.Ed.
2017 Florida Southern College, Ed.D.
Courses Taught
Practicum in Sport Management
Internship in Sport Management
Media Relations and Communication in Sport
Career Specialties
Michael Flynn has developed a network of local, regional and national contacts with various sport, business and educational organizations. It is this network of people, passionate about helping young professionals with their post-collegiate plans, that he enjoys leveraging in order to assist students in taking the next step in their professional journey in the world of sports management.
Professional and Community Activities
Flynn has had a plethora of professional experiences in education, athletics, business and the military, which has prepared him for teaching in higher education and guiding young people on their path to their first career. It is through these experiences that he has developed into a student-focused educator who feels it is important to incorporate real world examples into the classroom. He believes these experiences allow him to create an educational environment that aligns with the stated purpose of UT's Sports Management program to "provide students with a combination of sport business theory and practical experience to prepare them for a successful career in the sport management industry."
Outside of his daily duties as a faculty member and internship coordinator, his research agenda consists of exploring the role of ethics in sports management and its affects the decision-making process of its leaders.
Flynn also believes in the idea of a higher purpose than self. It is with this sentiment in mind that he enjoys giving back to the local community primarily through two organizations. First, he has worked with the Tampa Bay Sports Commission on multiple occasions. He acted as local team liaison for the 2009 NCAA Division 1 Women's Volleyball Championship Finals (University of Minnesota), 2015 NCAA Division 1 Women's Basketball Championship Finals (University of South Carolina) and 2018 NCAA Division 2 Women's Lacrosse Championships (LeMoyne College).
Finally, he has been active with the Positive Coaching Alliance and assisting in it's goal of developing Better Athletes…Better People through workshops for athletes, coaches, administrators and parents.