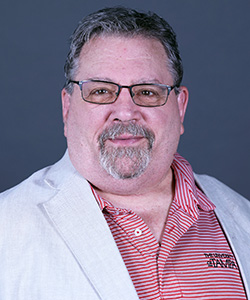 Meet Bernie Farkas
Assistant Professor, Information and Technology Management
Phone: (813) 257-3228
Email: bfarkas@ut.edu
Address: 401 W. Kennedy Blvd. Tampa, FL 33606
Mailbox: O
Building: TECH Room: 553H

---
Education
1985 Dominican College of Blauvelt, B.S.
2002 Polytechnic–now NYU Tardon School of Engineering, M.S.
2017 Virginia Commonwealth University, Ph.D.
View CV
Courses Taught
Business Information Systems
Computers and Information Processing
Data Communications
eBusiness
Human Factors in Technology
Intermediate Programming
Mind and Machine
Quality Management and Productivity
Technical Infrastructure
Transformational Leadership
Career Specialties
Bernie Farkas prefers to use mixed research methods with an inclination towards interpretivist research. His research focuses on IS processes and ontology, and he is presently investigating the use of Systems Theory with IT and IS governance.
Professional and Community Activities
Publications:
A Conceptual Model: Impact of Usage of Social Media Tools to Enhance Project Management Success" The European Journal of Management Studies, 2015
Adapting Agile Development Methods: Hybridizing Iterations and Agility, in progress

Dissertation:
A Systems View of IS Governance and IT Governance: A Case Study of the Virginia Department of Transportation, 2017

Conferences:
A Framework to Select a Software Development Methodology and Practices,13th Annual Symposium on Research in Systems Analysis & Design, Saint Louis, Missouri, 2014
Information Security and Organizational Innovation: exploring the power stasis, The Annual Security Conference, Las Vegas, Nevada, 2012
Some Information Systems Research Trends over the Past Decade, 15th Southern Association for Information Systems Conference, Atlanta, Georgia, 2012

Community:
Board Member, Association for Southern Information Systems, 2012-2014
President, Project Management Institute Central Virginia Chapter, 2016-2017
Board Member, Project Management Institute Central Virginia Chapter, 2011-2015
Member, Association for Information and Image Management
Member, Association for Information Systems
Member, Association for Information Systems, Special Interest Group in Systems Analysis and Design
Member, Association for Information Systems, Special Interest Group in Project Management
Member, Golden Key International Honor Society
Member, Project Management Institute
Member, Southern Association for Information Systems
Member, The Honor Society of Phi Kappa Phi
Honors and Awards
Honors:
Dow Jones Wall Street Journal Student Achievement Award, Polytechnic, 2002
Awards:
Top Performer Award, PMI Region 5, 2013
The Chairman's Award, Rockland District, Hudson Valley Council, Boy Scouts of America, 2000
District Award of Merit, Rockland District, Hudson Valley Council, Boy Scouts of America, 1998
Accomplishments:
Project Management Professional, Project Management Institute, 2004
Eagle Scout, Boy Scouts of America, 1971