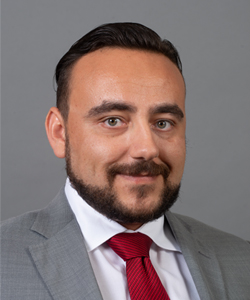 Meet Leon Faifman
Assistant Professor, Management and Entrepreneurship
Phone: (813) 257-3087
Email: lfaifman@ut.edu
Address: 401 W. Kennedy Blvd. Tampa, FL 33606
Mailbox: O
Building: JS Room: 317 B

---
Education
2007 University of Derby, B.A.
2013 Texas A&M University, MBA
2018 Florida Atlantic University, Ph.D.
Courses Taught
Practical Strategic Assessment
The Art and Science of Negotiation
International Business
Principles of Management
Career Specialties
Leon Faifman specializes in strategic management, entrepreneurship, international business and negotiations. His research focuses on cross-border mergers and acquisitions of high-tech and of private firms and entrepreneurial exit via mergers and acquisition.
Professional and Community Activities
Faifman has published research articles in several peer-reviewed journals and has presented his research at leading international academic conferences, where he has also served as session chair.
As an entrepreneur, Faifman co-founded a firm and grew it to an industry leader position. As a management consultant, he helped several small businesses, including launching new ventures with a high-tech start-up. As a business development and sales management professional, he managed sales processes and operations in various industries, trained negotiations and sales, and mentored salespeople.