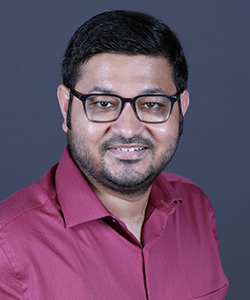 Meet Anirban Dawn
Assistant Teaching Professor, Mathematics
Phone: (813) 257-4011
Email: adawn@ut.edu
Address: 401 W. Kennedy Blvd. Tampa, FL 33606
Mailbox: 3F
Building: KBB Room: 209

---
Education
2012 The University of Calcutta, Bachelor of Science, B.Sc.
2014 Indian Institute of Technology Guwahati, Master of Science, M.Sc.
2021 Central Michigan University, Ph.D.
Courses Taught
Intermediate Algebra
College Algebra
Calculus-1
Calculus-2
Linear Algebra and Differential Equations
Introduction to Math Modeling
Career Specialties
Anirban Dawn's research lies at the interface between complex analysis and functional analysis.
Professional and Community Activities
Dawn's interested in the convergence and summability properties of Laurent series in spaces of holomorphic functions and other analytic objects.
His recent publication, 'Laurent series of holomorphic functions smooth up to the boundary,' can be found at https://link.springer.com/article/10.1007/s40627-021-00080-1.
Dawn is an active member of the American Mathematical Society (AMS). For the last three years, he held the treasurer position in the AMS graduate student chapter at Central Michigan University.
Honors and Awards
Outstanding Tutoring Award at CMU
Research Presentation Grants
AMS Sectional Meeting Travel Grants
Graduate Research Assistantship at CMU