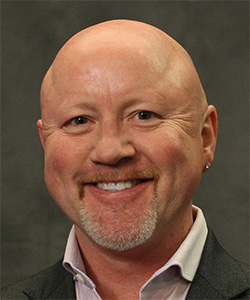 Meet G. Christopher Crawford
Assistant Professor, Entrepreneurship
Phone: (813) 257-3494
Email: gcrawford@ut.edu
Address: 401 W. Kennedy Blvd. Tampa, FL 33606
Mailbox: O
Building: ICB Room: 211

---
Education
1992 University of Toledo, BBA in International Business Management
2002 Miami University, MBA in Marketing
2013 University of Louisville, Ph.D. in Entrepreneurship
Courses Taught
Creativity and Innovation for Entrepreneurs (Graduate)
Communicating with Investors and Partners (Graduate)
Introduction to Entrepreneurship (Undergraduate)
Managing Growing Ventures (Undergraduate)
Career Specialties
Christopher Crawford is interested in entrepreneurship: the startup and growth of new ventures. Specifically, Crawford is interested in understanding how the highest performing ventures — the outliers — emerge.
Professional and Community Activities
Crawford's research focuses on the emergence of outliers in entrepreneurship. He provides service to the research community by organizing professional development workshops at the Academy of Management Meeting and being a co-editor of a forthcoming special issue of the Academy of Management Perspectives. Crawford's research has been published in the premier academic entrepreneurship journals, including Entrepreneurship Theory & Practice, Journal of Business Venturing and Small Business Economics, among others. He also disseminates this research to business professionals and students via workshops, sketchbook animation videos (Sketchbook video), podcasts (Podcast 1 and Podcast 2) and condensed articles (Crawford, GC (2021). 'Rock Star' Theory: How to Explain and Predict Entrepreneurial Success. Research OUTREACH, 121, 18-21, Condensed article).
Honors and Awards
Won Sykes College of Business Teaching Innovation Award, 2022-2023.
Co-editor of Academy of Management Perspectives special issue on Exceptionalism and Outliers.
Current Editorial Board Member of Entrepreneurship Theory and Practice. Previous Editorial Board Member of the Journal of Business Venturing.
National Science Foundation grant, Science of Organizations Program (#1853586, $205,000): Modeling the Emergence of Outliers in Entrepreneurship. Sole Principal Investigator.
Ewing Marion Kauffman Foundation Dissertation Fellowship ($20,000): Causes of Extreme Outcomes in Entrepreneurship: Endowments, Expectations, Engagement, and Environments.
Crawford, GC. (2015) The Emergence of Outliers in Entrepreneurship: A Self-Organized Criticality Framework. Frontiers of Entrepreneurship Research 35(16), Article 1. Awarded: National Federation of Independent Business Award for Excellence in Research and $3,000 prize in Bodø, Norway, June 2016.
Crawford, GC & McKelvey, B. (2012) Strategic Implications of Power Law Distributions in the Creation and Emergence of New Ventures: Power Law Analyses in Three Panel Studies. Frontiers of Entrepreneurship Research. (32) 12, Article 1. doi:BCERC. Awarded: Kauffman Firm Survey Best Conference Paper and $1,000 prize.