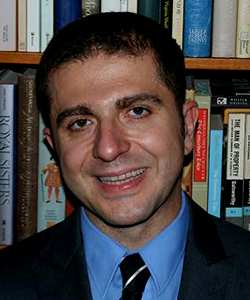 Meet Cagdas Agirdas
Associate Professor, Economics
Phone: (813) 257-3104
Email: cagirdas@ut.edu
Address: 401 W. Kennedy Blvd. Tampa, FL 33606
Mailbox: O
Building: JS Room: 305

---
Education
2002 Bogazici University, B.S.
2004 Central Michigan University, M.A.
2011 University of Illinois at Urbana-Champaign, Ph.D.
Courses Taught
Foundational Economics for Managers (graduate-level)
Principles of Macroeconomics
Principles of Microeconomics
Health Economics
Public Economics
Game Theory
Econometrics
Statistics
Economic Development
First-Year Seminar
Career Specialties
Cagdas Agirdas has developed his own course packets for each of the 10 different economics courses that he has taught. These course packets replace the need for a textbook while creating a unique, organized and engaging classroom environment. Agirdas also regularly organizes classroom debates on various economics topics featuring two debate teams.
Agirdas' research can be classified into two fields: health economics and media economics. In his primary research area of health economics, he has empirically analyzed the effects of the Affordable Care Act on health insurance premiums, racial/ethnic disparities in preventive care and the labor market. The second area of his research agenda explores the microeconomic sources of media bias.
Professional and Community Activities
Agirdas has published numerous papers in academic journals of health and media economics. His lead-author paper, "The effects of competition on premiums: using United Healthcare's 2015 entry into ACA's marketplaces as an instrumental variable," was published in the July 2019 issue of the Health Economics, Policy and Law. This paper explores the impact of competition on premiums in the ACA's online marketplaces. Another lead-author paper, "Effects of the Affordable Care Act on preventive care disparities," published in the December 2018 issue of the Applied Health Economics and Health Policy, examines the effects of the ACA's requirement that private insurance plans must provide certain preventive care services without any cost sharing in the form of deductibles, copayments or co-insurance. His sole-author paper, "How did Medicaid expansions affect labor supply and welfare enrollment? Evidence from the early 2000s," was published in the March 2016 issue of the Health Economics Review. In his second research area, his sole-author paper, "What Drives Media Bias? New Evidence From Recent Newspaper Closures," published in the September 2015 issue of the Journal of Media Economics, examines the microeconomic sources of media bias. His editor-reviewed publications have appeared in the Orlando Sentinel and the Tampa Bay Economy. Agirdas presents his research papers regularly at economics conferences. He is a member of the Southern Economic Association and the American Economic Association.
Honors and Awards
The Graduate Professor of the Year Award, The University of Tampa, 2015-2016; voted by graduate students as the outstanding professor for excellence in graduate-level teaching

The Robert E. Demarest Memorial Teaching Award, University of Illinois, 2006-2007, 2007-2008, 2009-2010 and 2010-2011; awarded to the outstanding teaching assistant for excellence in teaching undergraduate-level economics

List of Teachers Ranked as Excellent, University of Illinois, 2004-2011; received for each teaching semester for a total of 17 semesters; awarded an outstanding distinction for 12 out of 17 semesters (top 10% of all teaching assistants campus-wide)

Graduate Teaching Certificate, University of Illinois, 2005

Graduate College Fellowship, University of Illinois, 2006-2007 and 2007-2008

Summer Research Award, University of Illinois, Summer 2007

Second Highest GPA in Ph.D. Core Program in Economics, University of Illinois, 2006

Habib A. Zuberi Scholarship, Central Michigan University, 2002/2003

63rd place in University Admissions Examination, Turkey, 1997; ranked 63rd out of approximately 1.5 million students who took the standardized Turkish national examination for university admissions